Archive for the 'law' category
Over 150 experts in AI, robotics, commerce, law, and ethics from 14 countries have signed an open letter denouncing the European Parliament's proposal to grant personhood status to intelligent machines. The EU says the measure will make it easier to figure out who's liable when robots screw up or go rogue, but critics say it's too early to consider robots as persons—and that the law will let manufacturers off the liability hook.
This all started last year when the European Parliament proposed the creation of a specific legal status for robots:
so that at least the most sophisticated autonomous robots could be established as having the status of electronic persons responsible for making good any damage they may cause, and possibly applying electronic personality to cases where robots make autonomous decisions or otherwise interact with third parties independently.
Continue reading "Experts Sign Open Letter Slamming Europe's Proposal to Recognize Robots as Legal Persons" »

The University of Nebraska College of Law is joining forces with space and military law experts from Australia and the United Kingdom to take the lead on understanding how our Earth-bound laws will be applied in times of armed conflict in outer space.
Some of the best legal and policy minds at the University of Adelaide, UNSW Canberra, University of Exeter and Nebraska Law will draft the definitive document on military and security law as applied to space.
The Woomera Manual on the International Law of Military Space Operations is to be completed in 2020. It will draw on the knowledge of dozens of legal and space operations experts from around the world.
Continue reading "Legal experts: Conflict in outer space will happen" »

"Be very, very afraid. As this extraordinary book reveals, we are fast sailing into an era in which big life-and-death decisions in war will be made not by men…and women, but by artificial intelligence" — @stavridisj's review of @paul_scharre upcoming book Pre-order yours now:
---
A Pentagon defense expert and former U.S. Army Ranger explores what it would mean to give machines authority over the ultimate decision of life or death.
What happens when a Predator drone has as much autonomy as a Google car? Or when a weapon that can hunt its own targets is hacked? Although it sounds like science fiction, the technology already exists to create weapons that can attack targets without human input. Paul Scharre, a leading expert in emerging weapons technologies, draws on deep research and firsthand experience to explore how these next-generation weapons are changing warfare.
Continue reading "Army of None: Autonomous Weapons and the Future of War" »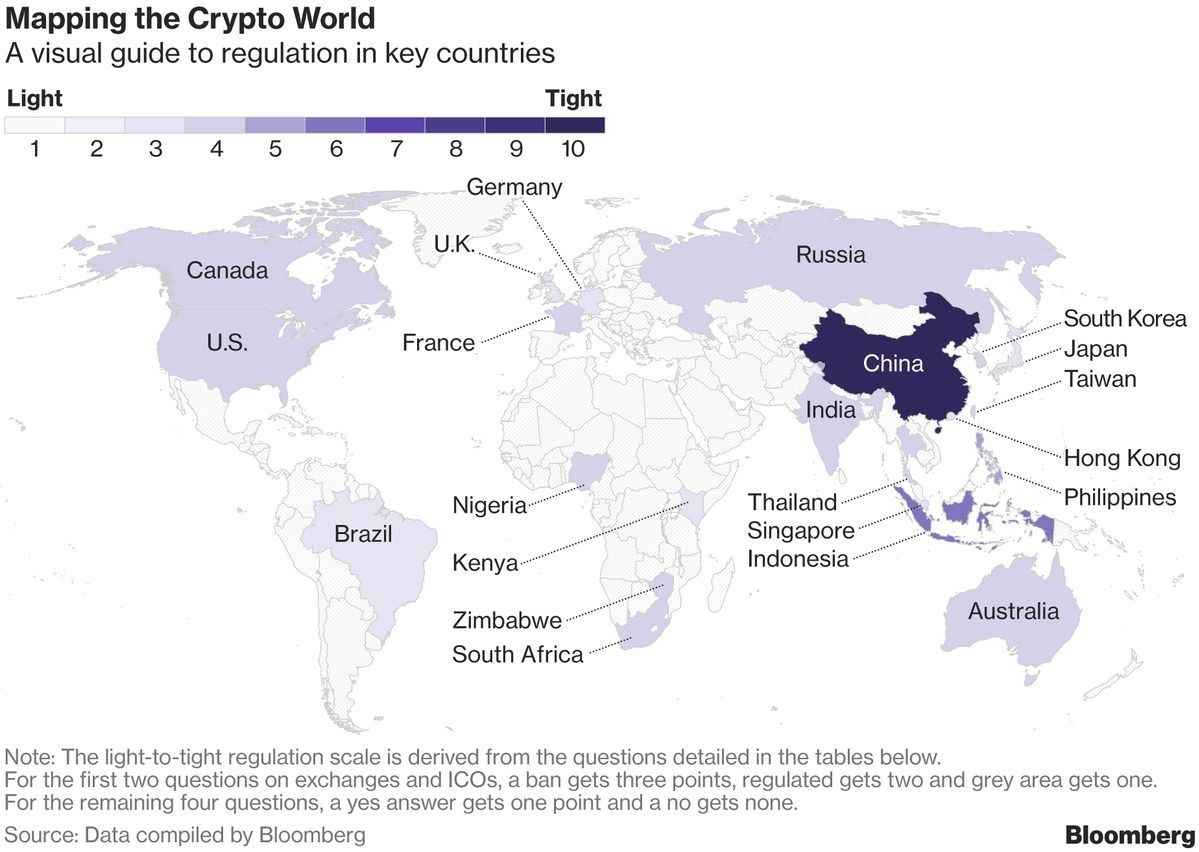 Getting your head around cryptocurrencies was hard enough before governments got involved. But now that policy makers around the world are drawing up fresh regulations on everything from exchanges to initial coin offerings, keeping track of what's legal has become just as daunting as figuring out which newfangled token might turn into the next Bitcoin.
The rules can vary wildly by country, given a lack of global coordination among authorities. And while that may change after finance chiefs discuss digital assets at the Group of 20 meeting in Buenos Aires this week, for the time being there's a wide range of opinions on how best to regulate the space. Below is a rundown of what major countries are doing now.
Read more
Legacy Method of Inheriting Assets
Many Bitcoin owners choose to use a custodial account, in which the private keys to a wallet are generated and controlled by their exchange—or even a bank or stock broker. In this case, funds are passed to heirs in the usual way. It works like this…
An executor, probate attorney, or someone with a legal claim contacts the organization that controls the assets. They present a death certificate, medical proxy or power-of-attorney. Just as with your bank account or stocks and bonds, you have the option of listing next of kin and the proportion of your assets that should be distributed to each. These custodial services routinely ask you to list individuals younger than you and alternate heirs, along with their street addresses, in the event that someone you list has died before you.
Of course, Bitcoin purists and Libertarians point out that the legacy method contradicts the whole point of owning a cryptocurrency. Fair enough.
Continue reading "What happens to your Bitcoin if you die or forget passwords?" »

Tags: access, access accounts, bitcoin, cryptocurrency, Death, exchange, heirs, inherit, inheritance, multisig, passwords, wallet
Another milestone in the race to artificial superintelligence:
A study conducted by legal AI platform LawGeex in consultation with law professors from Stanford University, Duke University School of Law, and University of Southern California, pitted twenty experienced lawyers against an AI trained to evaluate legal contracts. Their 40 page report details how AI has overtaken top lawyers for the first time in accurately spotting risks in everyday business contracts.
Competitors were given four hours to review five non-disclosure agreements (NDAs) and identify 30 legal issues, including arbitration, confidentiality of relationship, and indemnification. They were scored by how accurately they identified each issue.
In our weekly news roundup: researching immunity to CRISPR, this year's flu season, the legal battle over frozen embryos, and more.
Read more
Meow-Ludo Disco Gamma Meow-Meow couldn't just toss away his New South Wales transit pass even after he found out that it got deactivated while he was on a trip to the USee, Meow-Meow (yes, that is his legal name) cut the chip out of the travel card, encased it in biocompatible plastic and had it implanted under the skin on his left hand. The biohacker now plans to file a lawsuit against New South Wales' transport authorities, not just to fight the decision, but also to help create laws around body-hacking tech. In addition to the transit pass chip, Meow-Meow has two other implanted elect…
Read more
These campaigns could erode the base of the Legal Open Access movement: scientists' awareness of their options for sharing research. Elbakyan, on the other hand, would be left unaffected. The legal campaigns against Sci-Hub have — through the Streisand effect — made the site more well-known than most mainstay repositories, and Elbakyan more famous than legal Open Access champions like Suber.
The threat posed by ACS's injunction against Sci-Hub has increased support for the site from web activists organizations such as the EFF, which considesr the site "a symptom of a serious problem: people who can't afford expensive journal subscriptions, and who don't have institutional access to academic databases, are unable to use cutting-edge scientific research."
---
In cramped quarters at Russia's Higher School of Economics, shared by four students and a cat, sat a server with 13 hard drives. The server hosted Sci-Hub, a website with over 64 million academic papers available for free to anybody in the world. It was the reason that, one day in June 2015, Alexandra Elbakyan, the student and programmer with a futurist streak and a love for neuroscience blogs, opened her email to a message from the world's largest publisher: "YOU HAVE BEEN SUED."