Archive for the 'climatology' category
America's water is under threat from many sides. It faces pollution problems, outdated infrastructure, rising costs, and unprecedented droughts and rainfall patterns as the climate changes. Yet at a recent event hosted by the Columbia Water Center, the tone was cautiously optimistic, and the conversation centered on solutions.
"If we have aging infrastructure that's falling apart, and we're dealing with climate variability and change, isn't that a good opportunity to actually do something?" suggested Upmanu Lall, director of the Columbia Water Center.
For decades, the U.S. has been a leader in water management. Now we're falling behind; in the latest infrastructure report card, dams, drinking water and wastewater all received D ratings. But Lall thinks the country could get an A. Here are some of the solutions, presented at the event, that could help to get us there.
Continue reading "America's water infrastructure is failing—but here's how we could start to fix it" »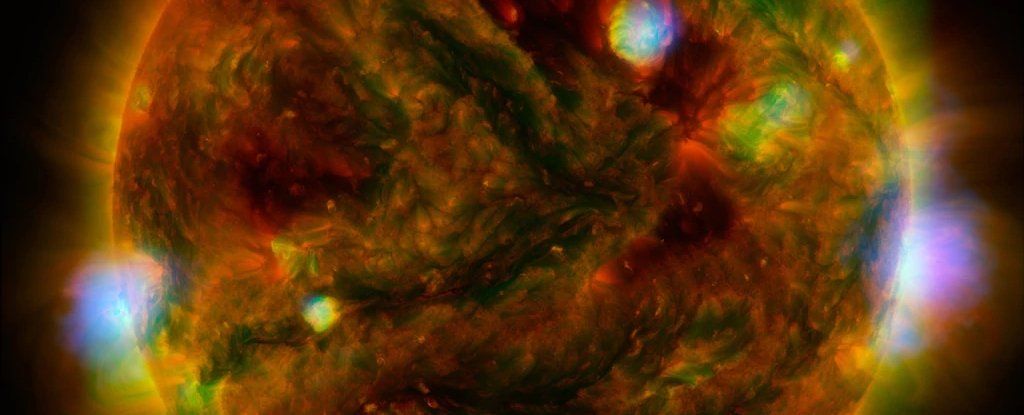 Astronomers have speculated for decades that the giant waves that meander through the Earth's atmosphere and oceans, driving the weather, might also exist on the Sun. Now those waves have been unambiguously detected inside the Sun, and found to be very similar to those on Earth.
These Rossby waves, or planetary waves, naturally occur in rotating fluids. It is the rotation of the Earth that causes Rossby waves to propagate through the atmosphere and ocean, affecting the climate and weather.
The Sun rotates, too — so, theoretically at least, a similar phenomenon should be taking place in the gases and plasma that make up its layers. Indeed, it should be taking place in all rotating fluid systems.
Continue reading "Gigantic Waves That Control Earth's Weather Have Once Again Been Detected Roaring Across The Sun" »

Additional challenges for those who want to colonize Mars…
---
Mars was once lush with water. A new analysis of Martian climate data shows a mechanism that might have helped dehydrate the planet.
Read more
A pair of new spacecraft that will observe our planet's ever-changing water cycle, ice sheets and crust is in final preparations for a California launch no earlier than Saturday, May 19. The Gravity Recovery and Climate Experiment Follow-On (GRACE-FO) mission, a partnership between NASA and the German Research Centre for Geosciences (GFZ), will take over where the first GRACE mission left off when it completed its 15-year mission in 2017.
GRACE-FO will continue monitoring monthly changes in the distribution of mass within and among Earth's atmosphere, oceans, land and ice sheets, as well as within the solid Earth itself. These data will provide unique insights into Earth's changing climate, Earth system processes and even the impacts of some human activities, and will have far-reaching benefits to society, such as improving water resource management.
"Water is critical to every aspect of life on Earth—for health, for agriculture, for maintaining our way of living," said Michael Watkins, GRACE-FO science lead and director of NASA's Jet Propulsion Laboratory in Pasadena, California. "You can't manage it well until you can measure it. GRACE-FO provides a unique way to measure water in many of its phases, allowing us to manage water resources more effectively."
Continue reading "Twin spacecraft to weigh in on Earth's changing water" »

Sea-level rise and wave-driven flooding will negatively impact freshwater resources on many low-lying atoll islands in such a way that many could be uninhabitable in just a few decades. According to a new study published in Science Advances, scientists found that such flooding not only will impact terrestrial infrastructure and habitats, but, more importantly, it will also make the limited freshwater resources non-potable and, therefore, directly threaten the sustainability of human populations.
Most of the world's atolls are in the Pacific and Indian oceans. The scientists focused on Roi-Namur Island on Kwajalein Atoll in the Republic of the Marshall Islands for their site study from November 2013 to May 2015. The Republic of the Marshall Islands has more than 1,100 low-lying islands on 29 atolls, is home for numerous island nations and hundreds of thousands of people.
Scientists from the U.S. Geological Survey, Deltares, National Oceanic and Atmospheric Administration, and the University of Hawai?i at Mānoa used a variety of climate-change scenarios to project the impact of sea-level rise and wave-driven flooding on atoll infrastructure and freshwater availability. The approach and findings in this study can serve as a proxy for atolls around the world, most of which have a similar morphology and structure, including, on average, even lower land elevations.
Continue reading "Many low-lying atoll islands could be uninhabitable" »

According to two new studies, an Atlantic Ocean current that helps regulate the global climate, has reached a more than 1,000-year low. This could mean more extreme weather across the Northern hemisphere as well as increased sea level along the U.S East Coast.
Via NBC News MACH
Read more
TOKYO – A volcano in southern Japan has erupted for the first time in 250 years, and authorities set up a no-go zone around the mountain.
Mount Io spewed smoke and ash high into the sky Thursday in its first eruption since 1768. Japan's Meteorological Agency on Friday expanded a no-go zone to the entire mountain from previously just around the volcano's crater.
Explosions have briefly subsided Friday, but officials cautioned residents in nearby towns against falling volcanic rocks and ash.
Continue reading "Japanese volcano Mount Io erupts for the first time in 250 years" »

Beyond this, another aim of the mission is to increase our knowledge of atmospheric processes and ocean circulation patterns that affect climate and weather. The ocean is also an important subject of study to the Swarm mission because of the small ways in which it contributes to Earth's magnetic field. Basically, as the ocean's salty water flows through Earth's magnetic field, it generates an electric current that induces a magnetic signal.
Because this field is so small, it is extremely difficult to measure. However, the Swarm mission has managed to do just that in remarkable detail. These results, which were presented at the EGU 2018 meeting, were turned into an animation (shown below), which shows how the tidal magnetic signal changes over a 24 hour period.
As you can see, the animation shows temperature changes in the Earth's oceans over the course of the day, shifting from north to south and ranging from deeper depths to shallower, coastal regions. These changes have a minute effect on Earth's magnetic field, ranging from 2.5 to −2.5 microtesla. As Nils Olsen, from the Technical University of Denmark, explained in a ESA press release:
Continue reading "Did You Know the Earth Has a Second Magnetic Field? Its Oceans" »

Less than eight months after Hurricane Harvey pelted the Texas Gulf Coast with torrential rainfall, drought has returned to Texas and other parts of the West, Southwest and Southeast, rekindling old worries for residents who dealt with earlier waves of dry spells and once again forcing state governments to reckon with how to keep the water flowing.
Nearly a third of the continental United States was in drought as of April 10, more than three times the coverage of a year ago. And the specter of a drought-ridden summer has focused renewed urgency on state and local conservation efforts, some of which would fundamentally alter Americans' behavior in how they use water.
In California, for example, officials are considering rules to permanently ban water-wasting actions such as hosing off sidewalks and driveways, washing a vehicle with a hose that doesn't have a shut-off valve, and irrigating ornamental turf on public street medians. The regulations, awaiting a final decision by the California State Water Resources Control Board, were in force as temporary emergency measures during part of a devastating five-year drought but were lifted in 2017 after the drought subsided.
Continue reading "Drought returns to huge swaths of US, fueling fears of a thirsty future" »