Archive for the 'business' category
National Geographic is bringing together the brightest minds in science, technology and science fiction for a glimpse into what awaits humanity in the years to come. The predictions are showcased in a new six-part series "Year Million." Executive producer David O'Connor and CBS News science contributor Dr. Michio Kaku join "CBS This Morning: Saturday" to discuss some of the series' jaw-dropping projections.
Watch "CBS This Morning" HERE: http://bit.ly/1T88yAR
Watch the latest installment of "Note to Self," only on "CBS This Morning," HERE: http://cbsn.ws/1Sh8XlB
Follow "CBS This Morning" on Instagram HERE: http://bit.ly/1Q7NGnY
Like "CBS This Morning" on Facebook HERE: http://on.fb.me/1LhtdvI
Follow "CBS This Morning" on Twitter HERE: http://bit.ly/1Xj5W3p
Follow "CBS This Morning" on Google+ HERE: http://bit.ly/1SIM4I8
Continue reading "New series 'Year Million' aims to predict the future of humanity" »

IBM announced today it has successfully built and tested its most powerful universal quantum computing processors. The first new prototype processor will be the core for the first IBM Q early-access commercial systems. The first upgraded processor will be available for use by developers, researchers, and programmers to explore quantum computing using a real quantum processor at no cost via the IBM Cloud. The second is a new prototype of a commercial processor, which will be the core for the first IBM Q early-access commercial systems.
Launched in March 2017, IBM Q is an industry-first initiative to build commercially available universal quantum computing systems for business and science applications. IBM Q systems and services will be delivered via the IBM Cloud platform. IBM first opened public access to its quantum processors one year ago, to serve as an enablement tool for scientific research, a resource for university classrooms, and a catalyst of enthusiasm for the field. To date users have run more than 300,000 quantum experiments on the IBM Cloud.
With the introduction of two new processors today for IBM Q, the company is building the foundation for solving practical problems in business and science that are intractable even with today's most powerful classical computing systems. The two new IBM-developed processors include:
Continue reading "IBM builds its most powerful universal quantum computing processors" »

Many of us have already come to know the disembodied voices of personal assistants like Apple's Siri or Amazon's Alexa, but now a software engineer has finally put a face to a name.
Jarem Archer, who works as a consultant through his business, unt1tled, created a hologram device to match Microsoft's Cortana personal assistant from Windows 10. She's just like Cortana the Halo character, which Microsoft based its own on — she's a slightly translucent, blue-light babe with a hip-waist-bust ratio that exposes her origins in the world of gaming. But Archer's Cortana is 3D and paces around inside a pyramid prism that rests on a table. In his demo video, he asks Cortana if he'll need an umbrella, and she then pulls up a graphic with the temperature and assures him that it's "probably not necessary."
Continue reading "This guy designed a hologram virtual assistant that actually works — just watch" »

This month we look at important questions about our future: is it time to have a serious the debate about universal basic income?; the weaponisation of AI; and we review Vivek Wadhwa's book about our unease over industrial revolution 4.0
Read more
A work crew for the Pittsburgh company Energy Independent Solutions installs solar panels at a community building in Millvale, Pa.
Craig Williams is still mining coal despite tough times for the business. "We're one of the last industries around and hope to keep it that way," he says in a breakroom at Consol Energy's Harvey mine, south of Pittsburgh.
The father of two — speaking in his dusty work jacket and a hard hat with headlamp — says coal is the best way he's able to support his family. He declines to give his salary, but nationally, coal miners average about $80,000 a year.
Continue reading "As Coal Jobs Decline, Solar Sector Shines" »

The emirate believes using the technology to conduct its business will make it more efficient and burnish its business-friendly image.
Read more
Natasha is faculty and Program Lead of Graduate Studies at the University of Advancing Technology. Her book The Transhumanist Reader — Classical and Contemporary essays on the Science, Technology and Philosophy of the Human Future is the most read book on transhumanism. She designed the first whole body prosthetic and establishing groundbreaking science on long-term memory after vitrification of C. elegans. Her creative works have been featured in WIRED, The New York Times, The Observer, MIT Technology Review, U.S. News and World Report, YMAZING
smile and in more than a dozen documentaries. She is Chair of Humanity Plus.
Natasha Vita-More World Business Dialogue #facingchange #20thwbdialogue #FutureOfHumanity #wow #ymazing Sam Dawkins
Read more
"The space race has changed since the Soviet Union sent Sputnik 1, the first man-made satellite, into space in 1957. The fight for domination is now between private companies rather than governments."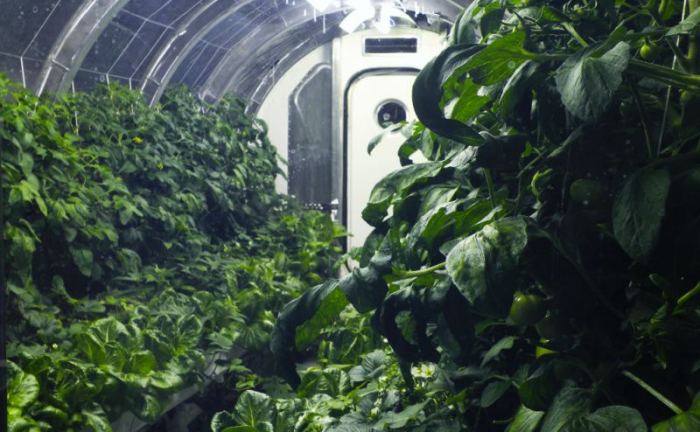 NASA is all about solving challenges, and the goal of having a prolonged presence in space, or a colony on Mars or some other world, is full of challenges, including the necessity of growing food. Scientists at Kennedy Advanced Life Support Research are working on the Prototype Lunar/Mars Greenhouse Project to try and meet that challenge.
The Prototype Lunar/Mars Greenhouse Project (PLMGP) is all about growing vegetables for astronauts during extended stays on the moon, on Mars, or anywhere they can't be resupplied from Earth. Beyond growing food, the Project aims to understand how food-growing systems can also be a part of life-support systems.
We're working with a team of scientists, engineers and small businesses at the University of Arizona to develop a closed-loop system. The approach uses plants to scrub carbon dioxide, while providing food and oxygen," said Dr. Ray Wheeler, lead scientist in Kennedy Advanced Life Support Research.