Archive for the 'complex systems' category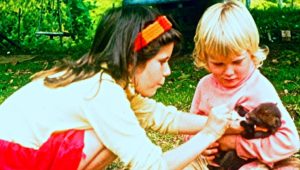 [This article is drawn from Ch. 8: "Pedagogical Love: An Evolutionary Force" in Postformal Education: A Philosophy for Complex Futures.]
"There is nothing more important in this world than radical love" as Paolo Freire told Joe Kincheloe over dinner.

- Joe Kincheloe. Reading, Writing and Cognition. 2006.
[*This article was first published in the September 2017 issue of Paradigm Explorer: The Journal of the Scientific and Medical Network (Established 1973). The article was drawn from the author's original work in her book: The Future: A Very Short Introduction (Oxford University Press, 2017), especially from Chapters 4 & 5.]
We are at a critical point today in research into human futures. Two divergent streams show up in the human futures conversations. Which direction we choose will also decide the fate of earth futures in the sense of Earth's dual role as home for humans, and habitat for life. I choose to deliberately oversimplify here to make a vital point.
The two approaches I discuss here are informed by Oliver Markley and Willis Harman's two contrasting future images of human development: 'evolutionary transformational' and 'technological extrapolationist' in Changing Images of Man (Markley & Harman, 1982). This has historical precedents in two types of utopian human futures distinguished by Fred Polak in The Image of the Future (Polak, 1973) and C. P. Snow's 'Two Cultures' (the humanities and the sciences) (Snow, 1959).
What I call 'human-centred futures' is humanitarian, philosophical, and ecological. It is based on a view of humans as kind, fair, consciously evolving, peaceful agents of change with a responsibility to maintain the ecological balance between humans, Earth, and cosmos. This is an active path of conscious evolution involving ongoing psychological, socio-cultural, aesthetic, and spiritual development, and a commitment to the betterment of earthly conditions for all humanity through education, cultural diversity, greater economic and resource parity, and respect for future generations.
Continue reading "Contrasting Human Futures: Technotopian or Human-Centred?*" »

The future of cancer care should mean more cost-effective treatments, a greater focus on prevention, and a new mindset: A Surgical Oncologist's take
Multidisciplinary team management of many types of cancer has led to significant improvements in median and overall survival. Unfortunately, there are still other cancers which we have impacted little. In patients with pancreatic adenocarcinoma and hepatocellular cancer, we have been able to improve median survival only by a matter of a few months, and at a cost of toxicity associated with the treatments. From the point of view of a surgical oncologist, I believe there will be rapid advances over the next several decades.
Robotic Surgery
There is already one surgery robot system on the market and another will soon be available. The advances in robotics and imaging have allowed for improved 3-dimensional spacial recognition of anatomy, and the range of movement of instruments will continue to improve. Real-time haptic feedback may become possible with enhanced neural network systems. It is already possible to perform some operations with greater facility, such as very low sphincter-sparing operations for rectal adenocarcinoma in patients who previously would have required a permanent colostomy. As surgeons' ability and experience with new robotic equipment becomes greater, the number and types of operation performed will increase and patient recovery time, length of hospital stay, and return to full functional status will improve. Competition may drive down the exorbitant cost of current equipment.
"Understanding interactions between different gene networks, which are evolved to respond to different stressors, and understanding natural variation in these responses could have important agricultural applications in challenging environments."
Superlubricity nano-structured self-assembling coating repairs surface wear, decreases emissions and increases HP and gas mileage.
Globally about 15 percent of manmade carbon dioxide comes from vehicles. In more developed countries, cars, trucks, airplanes, ships and other vehicles account for a third of emissions related to climate change. Emissions standards are fueling the lubricant additives market with innovation.
Up to 33% of fuel energy in vehicles is used to overcome friction. Tribology is the science of interacting surfaces in relative motion inclusive of friction, wear and lubrication. This is where TriboTEX, a nanotechnology startup is changing the game of friction modification and wear resilience with a lubricant additive that forms a nano-structured coating on metal alloys.
This nano-structured coating increases operating efficiency and component longevity. It is comprised of synthetic magnesium silicon hydroxide nanoparticles that self-assemble as an ultralow friction layer, 1/10 of the original friction resistance. The coating is self-repairing during operation, environmentally inert and extracts carbon from the oil. The carbon diamond-like nano-particle lowers the friction budget of the motor, improving fuel economy and emissions in parallel while increasing the power and longevity of the motor.
Continue reading "Nanotechnology Combatting Global Warming" »

"Launched in 2007, the Fuller Challenge has defined an emerging field of practice: the whole systems approach to understanding and intervening in complex and interrelated crises for wide-scale social and environmental impact. The entry criteria have established a new framework through which to identify and measure effective, enduring solutions to global sustainability's most entrenched challenges. The rigorous selection process has set a unique standard, gaining renown as "Socially-Responsible Design's Highest Award."
The Fuller Challenge attracts bold, visionary, tangible initiatives focused on a well-defined need of critical importance. Winning solutions are regionally specific yet globally applicable and present a truly comprehensive, anticipatory, integrated approach to solving the world's complex problems."
Deadline is March 31, 2017
Recent evidence suggests that a variety of organisms may harness some of the unique features of quantum mechanics to gain a biological advantage. These features go beyond trivial quantum effects and may include harnessing quantum coherence on physiologically important timescales.
Quantum Biology — Quantum Mind Theory