The Lifeboat Foundation has begun work on an ambitious project called the Lifeboat Foundation X-Risks Network. Our mailing list/forum for this project is at https://groups.google.com/group/lifeboat-foundation-x-risks-network. To get invited to the discussion, send an email with the subject "Lifeboat Foundation X-Risks Network" to [email protected].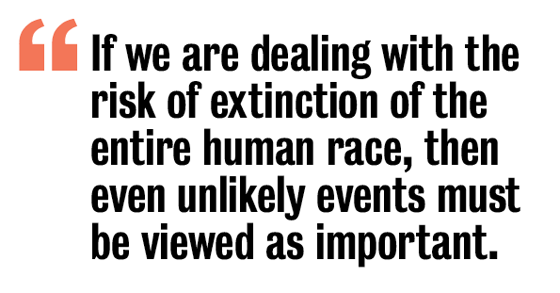 The goal of the X-Risks Network project is to combine a bayesian network, a debate graph, and a project tracking system all into one graph. The project is focused on tracking progress on existential risk reduction and then determining the most leveraged ways to help reduce existential risks.
This project is an extension of the debate graph idea posted to
http://lesswrong.com/lw/1qq/debate_tools_an_experience_report/1l1w
which is an extension of the Transhumanist Wiki's Scenarios Project at
http://transhumanistwiki.com/wiki/The_Scenarios_Project
.
Our goal is to raise $25,000 to complete this complex project.
Resources
A Web of Implications
by Khannea Suntzu.
Use the below form to donate via

,

, anoncoin, bitcoin, bitcoin cash, bytecoin, check, CryptogenicBullion, dash,

,
, ethereum,

, litecoin, monero, namecoin,

, noblecoin, NXT,

, peercoin, solarcoin,

, wire, or Zcash. You can also send anonymous anoncoin donations to ALifeboatMFbsbBnM157zSwmvLefBMFyRA, bitcoin donations to 1Endowment7huUesEXRuWgEXfxHgxvZHfK, bitcoin cash donations to 1LifeboatVPg24QghZ73Dzrx8AxcJLCnoA, bytecoin donations to 27Ztk296eht7kvkuSWBnSHFkyJuBz12aUQD3JGAB9TzfTmij
vGVsB4626pMkC7ZPHvM8oNBxPSW6NGjtvvY4hdTSEzxz3NQ, CryptogenicBullion to 5oLifeboahKRRBegBet6wKknJXKgZaC2n1, dash to XoLifeboayhU2V4cZjzEWrVY1bs4EXRzVj, ethereum to 0xbadc0de027c5c1aa8917db7c93aec6c4281f6eca, litecoin to LLifeboat89KCQKb9XEH2XGAQqbr2KnUp9, monero at 42BToafqtFZDrGPVzWrTCoG2fd2joMvK4BGV3tiQFnE1HhyQ
5Ug1QzRNLL5xFHyNHc6rLZbZ8GpqV1V41FzNsaxtPbg2LJd, namecoin to N2LifeboatgP2N6eh7SoKKLkfYkJevhYYg, noblecoin to 9oLifeboaAJZD99ewSfEadFQuYRxEwrRFu, NXT to 15218141642686933204, peercoin to PLifeboatRZmTjrLMs6Cpa14Sqc8Nwyq6p, solarcoin to 8LifeboatJu4KqsL5NCtmd45dkD2aFK59X, and Zcash to t1Lifeboat7EQg4jzdUdgDjPkbPqnkWy3LP. You can also donate American Express membership reward points.