Archive for the 'Ray Kurzweil' category
All over Silicon Valley and the regions that imitate it, executives follow weird revitalization fads. They think the code of aging can be hacked and death made optional. Daniel Gross, a partner at Y Combinator, fasts enthusiastically—and encourages others to do so—because he believes it will extend his life. Inventor Ray Kurzweil swallows 100 supplements a day for the same reason, presumably so he'll live long enough to be uploaded into the singularity, circa 2045.
But you don't have to be a prophet of posthumanism to wish for a few more good years. I've followed my own antiaging routines: For a time I ate 30 percent fewer calories than recommended, and I now starve myself for 16 of every 24 hours. And while there's certainly plenty of folly in the tech elite's quest for immortality, I'm glad they've embarked on it—for reasons that go beyond sheer entertainment value.
Read more
Ray Kurzweil discusses how biotechnology is rapidly and radically changing our lives, which will improve our health and longevity.
Read more
Summary: Cryonics has long been a non-starter due to technical limitations. A week-old radical proposal by a Russian cryonics firm to freeze people before death, combined with technological advances in Cryopreservation: Also called cryobanking. The process of cooling and storing cells, tissues, or organs at very low or freezing temperatures to save them for future use. Used in cryonics and the storage of reproductive cells in fertility treatments. [Source – NCI]." class=" glossaryLink "cryopreservation are shaking up the cryonics industry. When will cryonics be ready for prime time? [Author: Brady Hartman. This article first appeared on LongevityFacts.com. Follow us on Reddit | Google+ | Facebook. ]
Google's most famous technologist, Ray Kurzweil, has signed up for cryonics, saying:
"My primary strategy for living through the 21st century and beyond is not to die"
Continue reading "Can These New Advancements in Cryonics Revive Our Bodies After Freezing?" »

In a recent article, I began to unpack Rodney Brooks' October 2017 essay "The Seven Deadly Sins of AI Predictions." Now I continue my analysis by looking into the faulty atheistic thinking that motivates the AI salvation preached by futurists such as Google's Ray Kurzweil. Although Brooks does not address this worldview dimension, his critique of AI predictive sins provides a great opportunity for just that.
Brooks is a pioneer of robotic artificial intelligence (AI) and is MIT Panasonic Professor of Robotics Emeritus. He is also the founder and chief technology officer of Rethink Robotics, which makes cobots—robots designed to collaborate with humans in a shared industrial workspace.
Previously I discussed Brooks' remark that "all the evidence that I see says we have no real idea yet how to build" the superintelligent devices that Kurzweil and like-minded singularity advocates imagine.
Continue reading "What's Wrong with Godless AI Technological Salvation, the Singularity?" »

Recorded: November 3, 2017
In December 2012, Kurzweil was hired by Google in a full-time position to "work on new projects involving machine learning and language processing". He was personally hired by Google co-founder Larry Page and Kurzweil agreed on a one-sentence job description: "to bring natural language understanding to Google".
Continue reading "Ray Kurzweil — Human-Level AI is Just 12 Years Away" »

How far should we integrate human physiology with technology? What do we do with self-aware androids—like Blade Runner's replicants—and self-aware supercomputers? Or the merging of our brains with them? If Ray Kurzweil's famous singularity—a future in which the exponential growth of technology turns into a runaway train—becomes a reality, does religion have something to offer in response?
---
Yes, not only is A.I. potentially taking all of our jobs, but it's also changing religion.
Brandon Withrow
Ray Kurzweil is director of engineering at Google but he is better known for writing best-selling books outlining the future of artificial intelligence.
He has made 147 predictions on the future of technology including the ubiquity of wearable devices and the move from desktops and laptops to smartphones and tablets. In fact, his prediction rate has been rated 86 per cent accurate.
With this in mind, fans were excited to see Kurzweil answer their questions in a live streaming interview session last week where he elaborated on his predictions.
Continue reading "Nanobots will live in our brains in the 2030s, says Google boss" »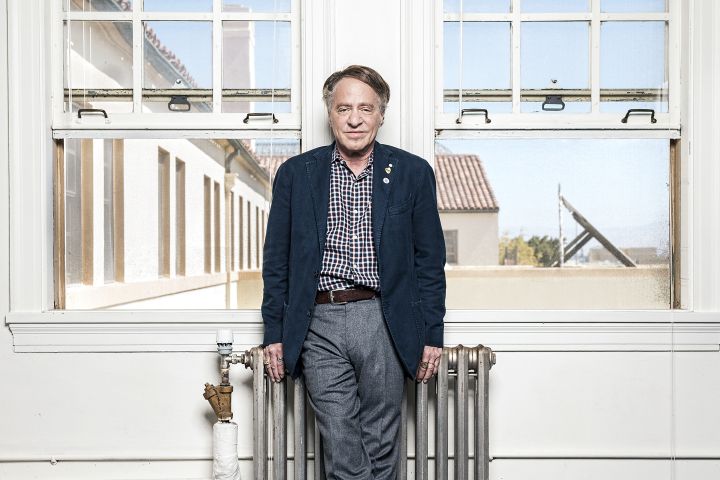 Innovation will do more good than harm, he says.
You know a topic is trending when the likes of Tesla's Elon Musk and Facebook's Mark Zuckerberg publicly bicker about its potential risks and rewards. In this case, Musk says he fears artificial intelligence will lead to World War III because nations will compete for A.I. superiority. Zuckerberg, meanwhile, has called such doomsday scenarios "irresponsible" and says he is optimistic about A.I.
But another tech visionary sees the future as more nuanced. Ray Kurzweil, an author and director of engineering at Google, thinks, in the long run, that A.I. will do far more good than harm. Despite some potential downsides, he welcomes the day that computers surpass human intelligence—a tipping point otherwise known as "the singularity." That's partly why, in 2008, he cofounded the aptly named Singularity University, an institute that focuses on world-changing technologies. We caught up with the longtime futurist to get his take on the A.I. debate and, well, to ask what the future holds for us all.
Continue reading "Why Futurist Ray Kurzweil Isn't Worried About Technology Stealing Your Job" »

The new self-propelled, cancer-seeking bacteriobot swims right into the tumor and zaps it with a deadly payload of cancer drugs.
The recently perfected #bacteriobot holds 'a lot of promise' in treating #cancer says a physician. Cancer patients at a hospital in Montreal may be the first to be treated with these #nanorobots built out of bacteria.
---
Summary: The recently perfected bacteriobot holds 'a lot of promise' in treating cancer says a physician. Cancer patients at a hospital in Montreal may be the first to be treated with nanorobots built out of bacteria. The new self-propelled, cancer-seeking bacteriobot swims right into the tumor and zaps it with a deadly payload of cancer drugs. [Cover image: Getty Images/iStock.]
Continue reading "Bacteriobot Holds 'A Lot Of Promise' To Treat Cancer, Says Doctor" »