Archive for the 'geopolitics' category
My article with Jeff Sommers (see "The emerging field of space economics: theoretical and practical considerations", The Space Review, December 18, 2017) raised considerable criticism regarding the Moon Treaty, particularly, the inclusion of the Common Heritage of Mankind (CHM) doctrine. Leigh Ratiner, L5 attorney during the 1980 Senate ratification hearings, had identified CHM as the reason for rejecting ratification:
Read more
Titles are chosen by editors and not journalists or experts. I fought my editor over the above title. Yes, I address the teaser—and I explain a solid altcoin investment model. But, that comes after the break. The first part of this article should be titled "Why would anyone quote cost or value in Bitcoin?". The subjects are highly related, so bear with me…
Today, a reader asked this question:
Some financial sites discuss value in Bitcoin terms, rather
than dollars or Euros. Why would I calculate the value of a
new car, my rent or an investment in this way? It's hard to
understand how much money I need!
Answer: Your right! It's difficult to estimate the value of a car or your rent in terms of Bitcoin. You are paid in dollars or Euros—and your landlord quotes rent in the same currency.
Continue reading "Revenue Neutral model reduces altcoin investment risk" »

A new story on my work out from Bodyhacks. (Please remember I don't write these stories nor pick the photos, but I'm honored people I don't know choose to cover my work and #libertairan governor campaign however they wish): http://bodyhacks.com/zoltan-istvan-libertarian-transhumanist…alifornia/ #transhumanism
---
On the 2018 California ballot, the good people of California will have a chance to vote not only for a candidate who stands for a unique political agenda but one who stands for an equally unique non-political ideology. Zoltan Istvan [real name] will run on the Libertarian party's platform, but with a transhumanist agenda.
He's not the first transhumanist to run. In Australia, Meow Meow Ludo Disco Gamma [also real name] ran for office on a science platform last year, but that was way down under. This is 'Merica, and it's not the first time Istvan has run either. He put his name in the hat with Hilary and Donald in the last presidential election. [Psst, he didn't win.]
Continue reading "Zoltan Istvan; Libertarian, Transhumanist, and Governor of California?" »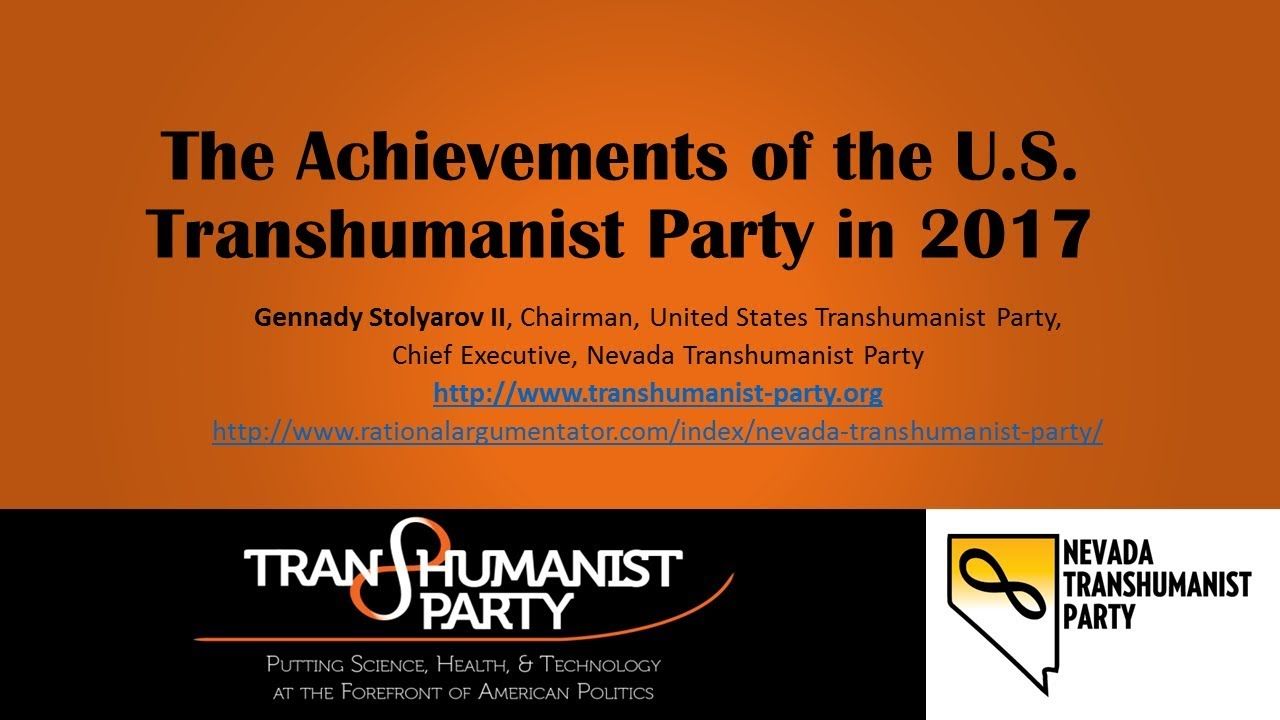 Some anniversary info from the Transhumanist Party, which I founded a few years back. This growing political party—under new leadership now—continues to prove important and inspiring. Congratulations to all those who have helped it forward! http://transhumanist-party.org/2017/11/25/ustp-chairman-anniversary/ #transhumanism
---
Gennady Stolyarov II
Continue reading "U.S. Transhumanist Party Chairman's Anniversary Message" »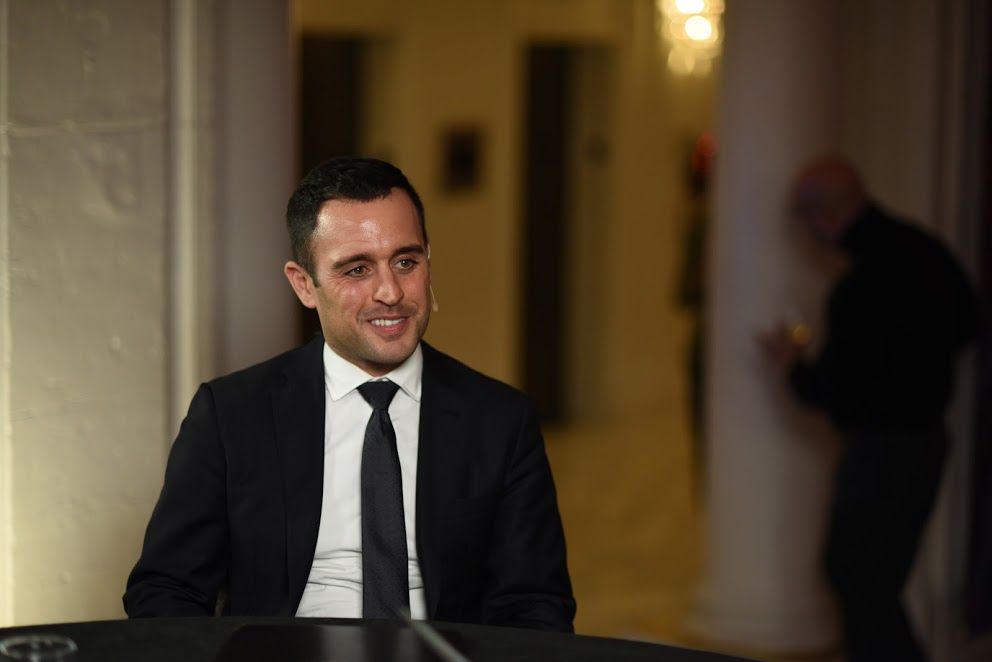 Most people probably aren't aware of this, but the 2016 U.S. Presidential election included a candidate who had a radio-frequency identification chip implanted in his hand. No, it wasn't Donald J. Trump. It was Zoltan Istvan, a nominee representing the Silicon Valley-based Transhumanist Party and his body-worn chip unlocked his front door, provided computer password access and sent an auto-text that said: "Win in 2016!"
The transhumanist movement – employing technology and radical science to modify humans – offers a glimpse into the marriage of machines and people, the focus of a recent paper released by the Institute for Critical Infrastructure Technology (ICIT). With cybernetic implants already available to consumers, the prospect for techno-human transmutation – cyborgs – is not as far away as many may think.
Continue reading "Why cyborg creators must self-govern security, privacy efforts" »

The Government of Dubai Media Office via the United Arab Emirates Prime Minister's official YouTube channel has released a 3-minute video of the World Economic Forum Global Future Councils 2017 meeting. My speech on the main stage at the event is covered a number of times in the middle of this video as I discuss #transhumanism and human enhancement. I was honored to have founder and Executive Chairman of the World Economic Forum Klaus Schwab and the Prime Minister of UAE, HH Sheikh Mohammed Bin Rashid Al Maktoum, listen to some of my talk. The Global Futures Council event was a big success and a lot of fun: #gfc17
---
http://fw.to/ilMs6BD
11 November, 2017 — Vice President, Prime Minister of the UAE and Ruler of Dubai His Highness Sheikh Mohammed bin Rashid Al Maktoum has attended part of the 2nd Annual Meeting of the Global Future Councils (AMGFC) organised in partnership between the UAE Government and the World Economic Forum (WEF) – Davos. During a meeting with the Founder and Executive Chairman of the World Economic Forum Professor Klaus Schwab, His Highness Sheikh Mohammed asserted that the United Arab Emirates is keen on adopting the future industry by utilising the Fourth Industrial Revolution technologies to benefit societies.
Ozone is a colorless combination of three oxygen atoms. High in the atmosphere, about 7 to 25 miles above the Earth, ozone shields Earth from ultraviolet rays that cause skin cancer, crop damage and other problems.
Scientists at the United Nation a few years ago determined that without the 1987 treaty there would have been an extra 2 million skin cancer cases by 2030. They said overall the ozone layer is beginning to recover because of the phase-out of chemicals used in refrigerants and aerosol cans.
Continue reading "Ozone hole over Antarctica shrinks to smallest peak since 1988" »

How many individuals own at least 1 BTC?
I was asked this question today at Quora, a popular Q&A blog covering a variety of technical and economic disciplines. Under my alias "Ellery", I am the most viewed author on Bitcoin and the blockchain.
While this question may sound like a good factoid for a trivia game, it is directly related to something with with far reaching impact on your pocketbook and your future. It goes to the heart of a debate between warring factions: In the 2nd half of this answer, I address the eternal question:
Is Bitcoin a pyramid scheme? Or are we still early on the adoption curve?
Continue reading "What can we learn from small fraction of people who own 1 BTC" »

I did a new interview on #transhumanism for some journalism students at Germany's Technical University of Dortmund. It's in English:
---
Mechanical bodyparts are very common nowadays – a lot of humans have a hip replacement or a pacemaker. Technology helps saving our lives rather often. Some people want to take this a lot further – a philosophical and scientific movement called Transhumanism. Zoltan Istvan Gyurko is one of the most famous Transhumanists, he even ran for president in 2016. In this interview, he talks about his first experiences with Transhumanism, immortality and the future of humanity.
By Marie-Louise Timcke und Paul Klur