Archive for the 'nuclear energy' category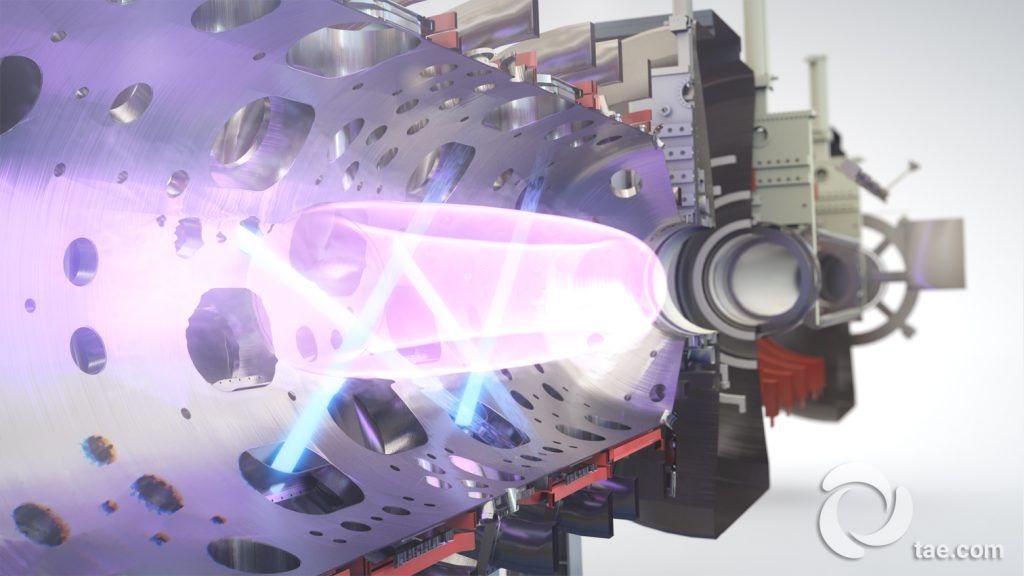 TAE Technologies, Inc. (formerly Tri Alpha Energy), the world's largest and most advanced private fusion company, has announced that its proprietary beam-driven field-reversed configuration (FRC) plasma generator, "Norman," surpassed a new technical milestone, bringing the company closer to the reality of commercial fusion power. This latest achievement marks a significant step in the company's mission to create a global energy revolution with clean, safe, sustainable fusion energy.
Norman, the $100MM National Laboratory-scale device named for company founder Dr. Norman Rostoker, was unveiled in May 2017 and quickly reached first plasma in June 2017. After over 4,000 experiments to date, Norman has now exceeded the capabilities and performance of the company's previous FRC plasma generator, C-2U, and sets a new company record for plasma temperature.
Continue reading "TAE Technologies Gen 5 reactor targets tripling confinement with 10 times the power by 2020" »

TAE Technologies, the California-based fusion company backed by Microsoft co-founder Paul Allen, said its latest and greatest plasma generator has exceeded the headline-grabbing performance of its previous machine.
"This announcement is an important milestone on our quest to deliver world-changing, clean fusion energy to help combat climate change and improve the quality of life for people globally," Michl Binderbauer, the company's president and chief technology officer, said in a news release. "This achievement further validates the robustness of TAE's underlying science and unique pathway."
Continue reading "TAE Technologies pushes plasma machine to a new high on the nuclear fusion frontier" »

The benefits of fusion power are globally recognised. But the process of creating and commercialising fusion energy is a considerable scientific and engineering challenge.
This challenge is the sole focus of our work at Tokamak Energy. We believe we have a unique solution that will enable fusion to be implemented efficiently and quickly.
We are pioneering the compact spherical tokamak route to fusion power – exploring and developing our own compact spherical tokamaks (the device in which controlled fusion can take place) that will use high temperature superconductors to create strong magnetic fields to contain the hot plasma.
Read more
Yes we can. NuScale Power is on track to build the first small modular nuclear reactor in America, having their first-ever SMR Design Certification Application accepted for full review by the NRC and now getting approval for their walk-away-safe concept. Their reactor just won't melt down.
Read more
A little hBN in ceramics could give them outstanding properties, according to a Rice University scientist.
Rouzbeh Shahsavari, an assistant professor of civil and environmental engineering, suggested the incorporation of ultrathin hexagonal boron nitride (hBN) sheets between layers of calcium-silicates would make an interesting bilayer crystal with multifunctional properties. These could be suitable for construction and refractory materials and applications in the nuclear industry, oil and gas, aerospace and other areas that require high-performance composites.
Combining the materials would make a ceramic that's not only tough and durable but resistant to heat and radiation. By Shahsavari's calculations, calcium-silicates with inserted layers of two-dimensional hBN could be hardened enough to serve as shielding in nuclear applications like power plants.
Continue reading "White graphene makes ceramics multifunctional" »

New view on mitochondrial DNA could put the brakes on mutations that drive diseases. Scientists perform landmark sequencing of mitochondrial DNA and discover surprising facts.
---
Summary: New view on mitochondrial DNA could help put the brakes on mutations that drive diseases. [Author: Brady Hartman. This article first appeared on LongevityFacts.]
DNA sequences between mitochondria inside a single cell are vastly different, reported scientists in the Perelman School of Medicine at the University of Pennsylvania. This discovery will help to illuminate the underlying mechanisms of diseases that start with mutations in mitochondrial DNA and provide clues about how patients might respond to specific treatments. The researchers published their findings in the journal Cell Reports this week.
Continue reading "Researchers Discover Key to Diseases in Mitochondrial DNA Mutations" »

A stunning new video has revealed a look inside the Wendelstein 7-X 'stellarator' fusion reactor – the largest of its kind in the world.
The video includes a compilation of footage from tests at the massive device, as scientists work to bring humanity closer to achieving 'limitless' energy by mimicking the conditions inside the sun.
Continue reading "Inside the 'star in a jar' reactor that could lead to limitless energy" »

Radioactive waste continues to pour from Exelon's Illinois nuclear power plants more than a decade after the discovery of chronic leaks led to national outrage, a $1.2 million government settlement and a company vow to guard against future accidents, an investigation by a government watchdog group found.
Since 2007, there have been at least 35 reported leaks, spills or other accidental releases in Illinois of water contaminated with radioactive tritium, a byproduct of nuclear power production and a carcinogen at high levels, a Better Government Association review of federal and state records shows.
No fines were issued for the accidents, all of which were self-reported by the company.
Continue reading "Investigation: Radioactive leaks at Illinois nuclear plants" »

Scientists propose that quark fusion may be an energy source eight times more powerful than nuclear fusion.
Read more