Archive for the 'homo sapiens' category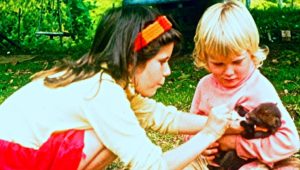 [This article is drawn from Ch. 8: "Pedagogical Love: An Evolutionary Force" in Postformal Education: A Philosophy for Complex Futures.]
"There is nothing more important in this world than radical love" as Paolo Freire told Joe Kincheloe over dinner.

- Joe Kincheloe. Reading, Writing and Cognition. 2006.
[*This article was first published in the September 2017 issue of Paradigm Explorer: The Journal of the Scientific and Medical Network (Established 1973). The article was drawn from the author's original work in her book: The Future: A Very Short Introduction (Oxford University Press, 2017), especially from Chapters 4 & 5.]
We are at a critical point today in research into human futures. Two divergent streams show up in the human futures conversations. Which direction we choose will also decide the fate of earth futures in the sense of Earth's dual role as home for humans, and habitat for life. I choose to deliberately oversimplify here to make a vital point.
The two approaches I discuss here are informed by Oliver Markley and Willis Harman's two contrasting future images of human development: 'evolutionary transformational' and 'technological extrapolationist' in Changing Images of Man (Markley & Harman, 1982). This has historical precedents in two types of utopian human futures distinguished by Fred Polak in The Image of the Future (Polak, 1973) and C. P. Snow's 'Two Cultures' (the humanities and the sciences) (Snow, 1959).
What I call 'human-centred futures' is humanitarian, philosophical, and ecological. It is based on a view of humans as kind, fair, consciously evolving, peaceful agents of change with a responsibility to maintain the ecological balance between humans, Earth, and cosmos. This is an active path of conscious evolution involving ongoing psychological, socio-cultural, aesthetic, and spiritual development, and a commitment to the betterment of earthly conditions for all humanity through education, cultural diversity, greater economic and resource parity, and respect for future generations.
Continue reading "Contrasting Human Futures: Technotopian or Human-Centred?*" »

The future of cancer care should mean more cost-effective treatments, a greater focus on prevention, and a new mindset: A Surgical Oncologist's take
Multidisciplinary team management of many types of cancer has led to significant improvements in median and overall survival. Unfortunately, there are still other cancers which we have impacted little. In patients with pancreatic adenocarcinoma and hepatocellular cancer, we have been able to improve median survival only by a matter of a few months, and at a cost of toxicity associated with the treatments. From the point of view of a surgical oncologist, I believe there will be rapid advances over the next several decades.
Robotic Surgery
There is already one surgery robot system on the market and another will soon be available. The advances in robotics and imaging have allowed for improved 3-dimensional spacial recognition of anatomy, and the range of movement of instruments will continue to improve. Real-time haptic feedback may become possible with enhanced neural network systems. It is already possible to perform some operations with greater facility, such as very low sphincter-sparing operations for rectal adenocarcinoma in patients who previously would have required a permanent colostomy. As surgeons' ability and experience with new robotic equipment becomes greater, the number and types of operation performed will increase and patient recovery time, length of hospital stay, and return to full functional status will improve. Competition may drive down the exorbitant cost of current equipment.
Posthumanists and perhaps especially transhumanists tend to downplay the value conflicts that are likely to emerge in the wake of a rapidly changing technoscientific landscape. What follows are six questions and scenarios that are designed to focus thinking by drawing together several tendencies that are not normally related to each other but which nevertheless provide the basis for future value conflicts.
Will ecological thinking eventuate in an instrumentalization of life? Generally speaking, biology – especially when a nervous system is involved — is more energy efficient when it comes to storing, accessing and processing information than even the best silicon-based computers. While we still don't quite know why this is the case, we are nevertheless acquiring greater powers of 'informing' biological processes through strategic interventions, ranging from correcting 'genetic errors' to growing purpose-made organs, including neurons, from stem-cells. In that case, might we not 'grow' some organs to function in largely the same capacity as silicon-based computers – especially if it helps to reduce the overall burden that human activity places on the planet? (E.g. the brains in the vats in the film The Minority Report which engage in the precognition of crime.) In other words, this new 'instrumentalization of life' may be the most environmentally friendly way to prolong our own survival. But is this a good enough reason? Would these specially created organic thought-beings require legal protection or even rights? The environmental movement has been, generally speaking, against the multiplication of artificial life forms (e.g. the controversies surrounding genetically modified organisms), but in this scenario these life forms would potentially provide a means to achieve ecologically friendly goals.
Will concerns for social justice force us to enhance animals? We are becoming more capable of recognizing and decoding animal thoughts and feelings, a fact which has helped to bolster those concerned with animal welfare, not to mention 'animal rights'. At the same time, we are also developing prosthetic devices (of the sort already worn by Steven Hawking) which can enhance the powers of disabled humans so their thoughts and feelings are can be communicated to a wider audience and hence enable them to participate in society more effectively. Might we not wish to apply similar prosthetics to animals – and perhaps even ourselves — in order to facilitate the transaction of thoughts and feelings between humans and animals? This proposal might aim ultimately to secure some mutually agreeable 'social contract', whereby animals are incorporated more explicitly in the human life-world — not as merely wards but as something closer to citizens. (See, e.g., Donaldson and Kymlicka's Zoopolis.) However, would this set of policy initiatives constitute a violation of the animals' species integrity and simply be a more insidious form of human domination?
Continue reading "Value Conflicts surrounding the Meaning of Life in the Trans/Post/Human Future" »

My sociology of knowledge students read Yuval Harari's bestselling first book, Sapiens, to think about the right frame of reference for understanding the overall trajectory of the human condition. Homo Deus follows the example of Sapiens, using contemporary events to launch into what nowadays is called 'big history' but has been also called 'deep history' and 'long history'. Whatever you call it, the orientation sees the human condition as subject to multiple overlapping rhythms of change which generate the sorts of 'events' that are the stuff of history lessons. But Harari's history is nothing like the version you half remember from school.
In school historical events were explained in terms more or less recognizable to the agents involved. In contrast, Harari reaches for accounts that scientifically update the idea of 'perennial philosophy'. Aldous Huxley popularized this phrase in his quest to seek common patterns of thought in the great world religions which could be leveraged as a global ethic in the aftermath of the Second World War. Harari similarly leverages bits of genetics, ecology, neuroscience and cognitive science to advance a broadly evolutionary narrative. But unlike Darwin's version, Harari's points towards the incipient apotheosis of our species; hence, the book's title.
This invariably means that events are treated as symptoms if not omens of the shape of things to come. Harari's central thesis is that whereas in the past we cowered in the face of impersonal natural forces beyond our control, nowadays our biggest enemy is the one that faces us in the mirror, which may or may not be able within our control. Thus, the sort of deity into which we are evolving is one whose superhuman powers may well result in self-destruction. Harari's attitude towards this prospect is one of slightly awestruck bemusement.
Here Harari equivocates where his predecessors dared to distinguish. Writing with the bracing clarity afforded by the Existentialist horizons of the Cold War, cybernetics founder Norbert Wiener declared that humanity's survival depends on knowing whether what we don't know is actually trying to hurt us. If so, then any apparent advance in knowledge will always be illusory. As for Harari, he does not seem to see humanity in some never-ending diabolical chess match against an implacable foe, as in The Seventh Seal. Instead he takes refuge in the so-called law of unintended consequences. So while the shape of our ignorance does indeed shift as our knowledge advances, it does so in ways that keep Harari at a comfortable distance from passing judgement on our long term prognosis.
Continue reading "Steve Fuller's Review of Homo Deus: A Brief History of Tomorrow by Yuval Noah Harari" »

Transhumanists will know that the science fiction author Zoltan Istvan has unilaterally leveraged the movement into a political party contesting the 2016 US presidential election. To be sure, many transhumanists have contested Istvan's own legitimacy, but there is no denying that he has generated enormous publicity for many key transhumanist ideas. Interestingly, his lead idea is that the state should do everything possible to uphold people's right to live forever. Of course, he means to live forever in a healthy state, fit of mind and body. Istvan cleverly couches this policy as simply an extension of what voters already expect from medical research and welfare provision. And while he may be correct, the policy is fraught with hazards – especially if, as many transhumanists believe, we are on the verge of revealing the secrets to biological immortality.
In June, Istvan and I debated this matter at Brain Bar Budapest. Let me say, for the record, that I think that we are sufficiently close to this prospect that it is not too early to discuss its political and economic implications.
Two months before my encounter with Istvan, I was on a panel at the Edinburgh Science Festival with the great theorist of radical life extension Aubrey de Grey, where he declared that people who live indefinitely will seem like renovated vintage cars. Whatever else, he is suggesting that they would be frozen in time. He may actually be right about this. But is such a state desirable, given that throughout history radical change has been facilitated generational change? Specifically, two simple facts make the young open to doing things differently: The young have no memory of past practices working to anyone else's benefit, and they have not had the time to invest in those practices to reap their benefits. Whatever good is to be found in the past is hearsay, as far as the young are concerned, which they are being asked to trust as they enter a world that they know is bound to change.
Questions have been already raised about whether tomorrow's Methuselahs will wish to procreate at all, given the time available to them to realize dreams that in the past would have been transferred to their offspring. After all, as human life expectancy has increased 50% over the past century, the birth rate has correspondingly dropped. One can only imagine what will happen once ageing can be arrested, if not outright reversed!
Continue reading "Beware the Rise of Gerontocracy: Some Hard Lessons for Transhumanism, Not Least from Brexit" »

Human civilization has always been a virtual reality. At the onset of culture, which was propagated through the proto-media of cave painting, the talking drum, music, fetish art making, oral tradition and the like, Homo sapiens began a march into cultural virtual realities, a march that would span the entirety of the human enterprise. We don't often think of cultures as virtual realities, but there is no more apt descriptor for our widely diverse sociological organizations and interpretations than the metaphor of the "virtual reality." Indeed, the virtual reality metaphor encompasses the complete human project.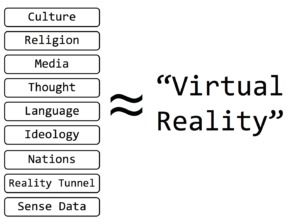 Virtual Reality researchers, Jim Blascovich and Jeremy Bailenson, write in their book Infinite Reality; "[Cave art] is likely the first animation technology", where it provided an early means of what they refer to as "virtual travel". You are in the cave, but the media in that cave, the dynamic-drawn, fire-illuminated art, represents the plains and animals outside—a completely different environment, one facing entirely the opposite direction, beyond the mouth of the cave. When surrounded by cave art, alive with movement from flickering torches, you are at once inside the cave itself whilst the media experience surrounding you encourages you to indulge in fantasy, and to mentally simulate an entirely different environment. Blascovich and Bailenson suggest that in terms of the evolution of media technology, this was the very first immersive VR. Both the room and helmet-sized VRs used in the present day are but a sophistication of this original form of media VR tech.
I learn useful life lessons from each patient I meet. Some are positive messages, reminding me of the importance of maintaining balance between family, work, and leisure activities, but more frequently I witness examples of the remarkable resilience of the human spirit when facing the reality and risks of a major surgical procedure and a diagnosis of cancer. Rarely, patients and their family members utter remorseful or simply sad remarks when they are faced with a grim prognosis and the emotions associated with an onrushing date with mortality. These comments invariably involve an inventory of regrets in life, including, "I should have spent more time with my kids," "I wish I had told my father (or mother, brother, sister, child, or some other person) that I loved them before they died," and "I have spent my entire life working, I never took time for anything else." I wince when I hear these openly expressed remonstrations, I recognize that I am hearing painful and heartfelt truths. Not a week goes by that I am not reminded that I do not one day want to look back at my life with a long list of regrets, should have dones, and what ifs.
I was blessed to meet a great teacher in the guise of a patient early in my academic career. He came to my clinic in my first year after completing a Fellowship in Surgical Oncology, my first year as an Assistant Professor of Surgery. My patient was a 69 year-old Baptist Minister from a small town in Mississippi. He was referred to me by his medical oncologist who called me and said, "I don't think there is anything you can do for him, but he needs to hear that from you because he doesn't believe me." This tall, imposing man had colon cancer that had metastasized (spread) to his liver. The malignant tumor in his colon was removed the year before I met him, and he had received chemotherapy to treat several large tumors found in his liver. The chemotherapy had not worked and the tumors grew. At the point I met him, the medical oncologist told him he would live no more than 6 months, and because he was an avid fisherman when not preaching or helping others in his community , the doctor suggested that he go out and enjoy his remaining time by getting in as much fishing as possible. I learned two invaluable lessons from this patient and his family. First, never deny or dismiss hope from a patient or their family, even when from a medical perspective the situation seems hopeless and the patient is incurable. Second, quoting the minister directly, "Some doctors think of themselves as gods with a small 'g', but not one of you is God".

One of the things I love most about being a Surgical Oncologist is that I see my patients for years after I have treated them. However, my clinic days are inevitably like the opening scenes from the old Wide World of Sports television program that aired on Saturday afternoons on ABC. I remember watching this show on weekends as a child and teenager. The "thrill of victory", with images of athletes crossing the finish line in first place, equates to those patients who receive good news during their clinic visit. I tell them I am confident I can perform an operation to remove their cancer; or I confirm that their blood tests and scans show that tumors have not recurred after surgery, chemotherapy, and other treatments; or we pass some major chronologic milestone without evidence of cancer rearing its ugly head again (many patients still believe the 5 year anniversary of being cancer-free equates with being "cured", if only that were always true). In contrast, the "agony of defeat", forever seared in my memory in the opening scenes of Wide World of Sports with the ski jumper falling off the end of the jump and bouncing hard off the slope, represents the distress and depression felt by patients and their family members when I deliver bad news.
I would never make it as a professional poker player because I can't bluff when I'm holding a bad hand or keep from grinning when I have a good one. My patients can tell from my face when I walk into the clinic room what the news is going to be. When all of the blood tests and scans reveal no evidence of cancer recurrence, I walk in smiling and immediately tell all gathered in the room that everything looks great and I see no evidence of any cancer. The remainder of the visit becomes a combination of medical checkup and social enterprise. I inquire about the well-being of their children, grandchildren, parents, other friends and relatives I have met, their pets, their gardening, their recent travels, and sundry snippets of their ongoing lives. Patients frequently bring pictures of children and grandchildren, or travel photos of places they have been since their last visit with me. Often I'm asked for medical advice on conditions totally unrelated to their cancers as they get farther and farther away from that diagnosis. My patients also know about tidbits from my life. They ask about the status of soccer teams that I coached, how my son or daughter were doing in college (both graduated and onto successful careers, thank you), and whether I have progressed from owning a Ferrari lanyard to hold and display my medical badge (I'm a fan of Ferrari F1 racing) to actually owning a Ferrari automobile (I do not).
I am told by patients, family members, and members of my patient care team that I am quite solemn when I walk in a clinic room to deliver bad news. No "light-hearted" chatter or discussion of recent family events or outings occurs. The nervous, hopeful smiles on the faces of the patient and the family members in the room quickly fade as I describe what I am seeing on their blood tests and the scans I have reviewed. Friedrich Nietzsche, the pejorative poster boy of pessimism, is credited with the aphorism, "Hope is the worst of evils, for it prolongs the torments of man." Thankfully, he was not involved in the care of patients with cancer or other chronic illnesses. A particular patient comes to mind when I remember the importance of dealing with both the highs and the lows of talking with cancer patients.
The patient in question was the wife of an Emeritus Professor of Engineering at a prestigious American university. The Professor knew a thing or two about scientific investigation, statistics, and assessments of probability. Mrs. Professor had a large, grapefruit-sized malignant vascular tumor in the center of her liver called an epithelioid hemangioendothelioma. Quite a mouthful of a name for a rare malignant tumor of the liver. Her tumor was in an unfortunate location in the center of the liver and was wrapped around two of the three veins that drain all of the blood out of the liver into a large blood vessel called the inferior vena cava. The tumor was abutting a portion of the third vein. As a hepatobiliary surgical oncologist, I know I must preserve at least one of these veins to allow blood that flows into the liver to flow back out properly. She had seen surgeons at several other hospitals in the United States and was told that the tumor was inoperable and untreatable. If she was lucky, she might live a year, these doctors told my patient and her husband. The Professor contacted me, and I examined Mrs. Professor and evaluated her prior scans, and then obtained some additional high resolution scans to better understand the appearance of her tumor. I realized that her particular tumor had a very thick fibrous capsule surrounding it. I explained to the patient and her husband that it may be possible to remove the tumor, but that it would be challenging. This lady who had been sullen, withdrawn, and tearful every time I had met with them previously suddenly looked up and said, "If there's any chance, I'm willing to take it!" I preceded the next week to perform an operation that removed the entire left lobe and a portion of the right lobe of her liver and I was able to gently dissect the tumor capsule free from the third hepatic vein. The operation was successful and the patient recovered well over the next several weeks.