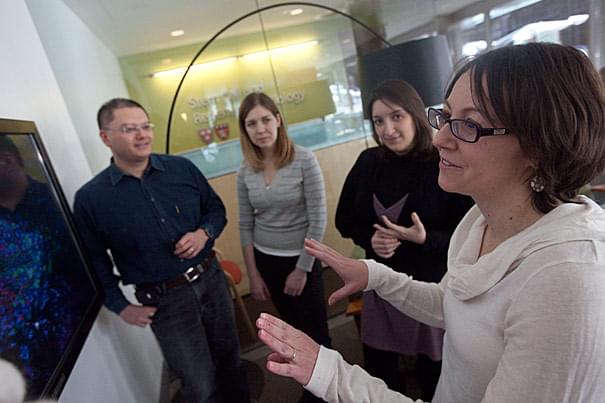 To an untrained observer, the electrical storm that takes place over the brain's neural network seems a chaotic flurry of activity. But as neuroscientists understand it, the millions of neurons are actually engaged in a sort of tightly choreographed dance, a tango of excitatory and inhibitory neurons. How is this precise balance that makes normal function possible achieved during development? And how does it go wrong in diseases like epilepsy when brain activity goes out of control?
Focusing on the cerebral cortex, the part of the brain controlling thought, sensory awareness, and motor function, a group of Harvard Stem Cell Institute (HSCI) researchers in the Department of Stem Cell and Regenerative Biology (SCRB), led by Assistant Professor Paola Arlotta, has discovered that excitatory neurons control the positioning of inhibitory neurons in a process that is critically important for generating balanced circuitry and proper cortical response.
Professor Takao Hensch, a collaborator on the study in the Harvard Center for Brain Science, Department of Molecular & Cellular Biology (MCB), had previously shown that the maturation of this circuit balance triggers critical periods of brain development. Certain inhibitory cells appear particularly vulnerable to genetic or environmental factors in early life, contributing to mental illness, such as schizophrenia or autism spectrum disorders.