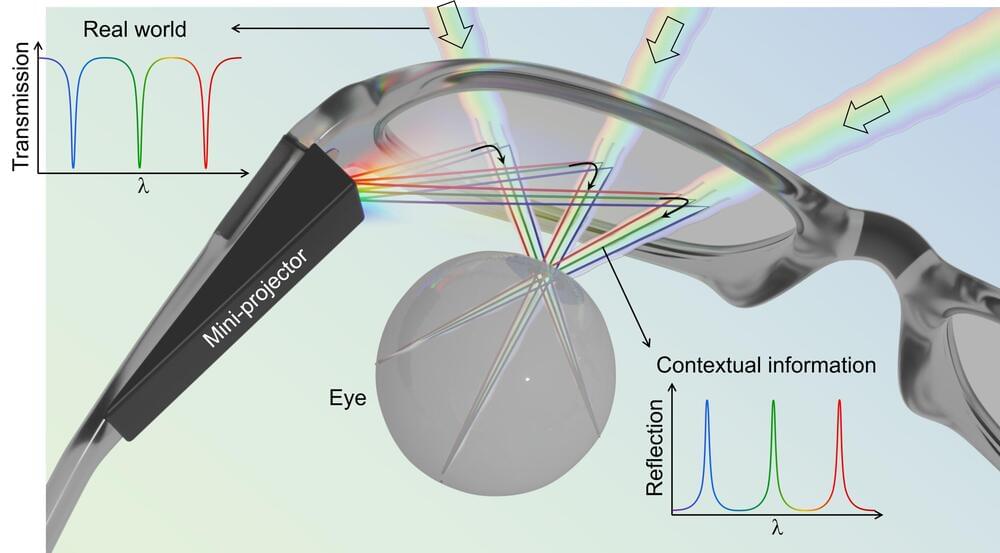 As anyone who has recently tried out an augmented reality headset knows, the technology is not yet ready to be part of our everyday lives. Researchers have been working to perfect high-performing augmented reality (AR) glasses, but there are a number of challenges. One major problem with conventional AR glasses is that there is a tradeoff in terms of quality and brightness between the external scene you actually see and the contextual information you also want to visualize.
Early solutions like Google Glass used multiple bulky optical components that were partially reflective and partially transmissive to mix the real-world and contextual scenes, with the result of a dimmed and distorted vision of both scenes.
More recent AR head-mounted-display eyeglasses have been patterned with diffractive gratings (fine grooves) with wavelength-sized spacing that deflect contextual information from a miniprojector beside the glasses to the viewer's eye. But these eyeglasses still dim and distort the external scene because real-world light passing through the glass inevitably gets scattered and dispersed by the gratings. The distortions get worse when several sets of overlapping gratings must be used to handle multiple distinct colors from the miniprojector.