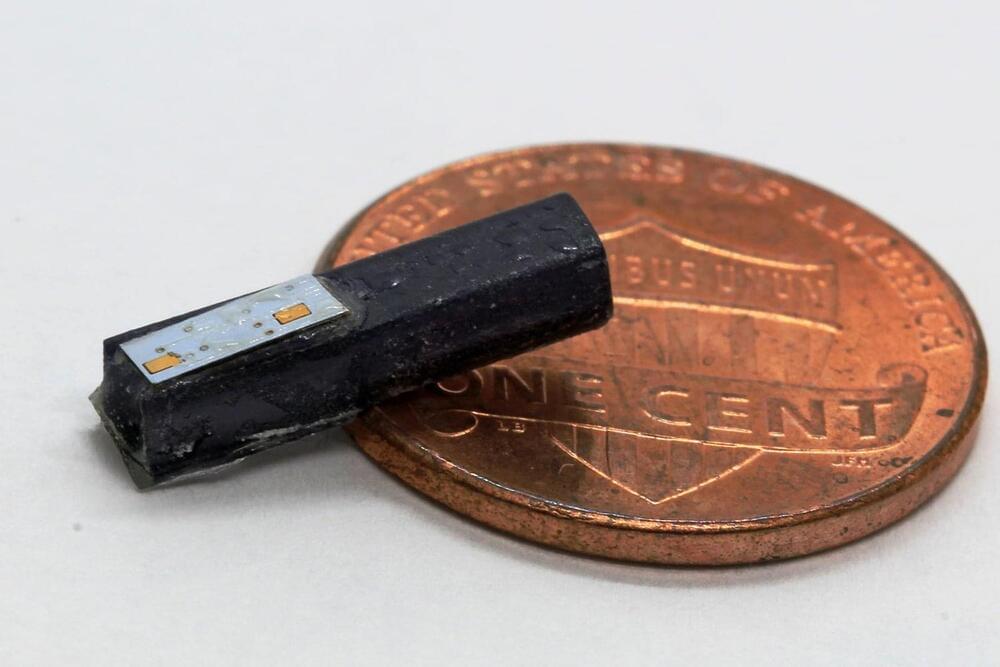 𝐏𝐚𝐢𝐧 𝐍𝐞𝐰𝐬 𝐍𝐞𝐭𝐰𝐨𝐫𝐤:
The Neuro-Network.
𝐓𝐢𝐧𝐲 𝐄𝐱𝐩𝐞𝐫𝐢𝐦𝐞𝐧𝐭𝐚𝐥 𝐈𝐦𝐩𝐥𝐚𝐧𝐭 𝐂𝐨𝐮𝐥𝐝 𝐓𝐫𝐞𝐚𝐭 𝐍𝐞𝐮𝐫𝐨𝐩𝐚𝐭𝐡𝐢𝐜 𝐏𝐚𝐢𝐧
𝘼 𝙩𝙞𝙣𝙮 𝙬𝙞𝙧𝙚𝙡𝙚𝙨𝙨 𝙞𝙢𝙥𝙡𝙖𝙣𝙩 𝙩𝙝𝙖𝙩 𝙨𝙩𝙞𝙢𝙪𝙡𝙖𝙩𝙚𝙨 𝙥𝙚𝙧𝙞𝙥𝙝𝙚𝙧𝙖𝙡 𝙣𝙚𝙧𝙫𝙚𝙨 𝙛𝙧𝙤𝙢 𝙬𝙞𝙩𝙝𝙞𝙣 𝙗𝙡𝙤𝙤𝙙 𝙫𝙚𝙨𝙨𝙚𝙡𝙨 𝙨𝙝𝙤𝙬𝙨 𝙥𝙤𝙩𝙚𝙣𝙩𝙞𝙖𝙡 𝙖𝙨 𝙖 … See more.
---
By Pat Anson, PNN Editor.
A tiny wireless implant that stimulates peripheral nerves from within blood vessels shows potential as a treatment for neuropathic pain, according to a proof-of-concept study by a team of Texas researchers published in the journal Nature Biomedical Engineering.
The implants have only been tested in laboratory animals, but researchers say they could replace larger and more invasive devices currently used to treat Parkinson's disease, epilepsy, chronic pain, hearing loss and paralysis.