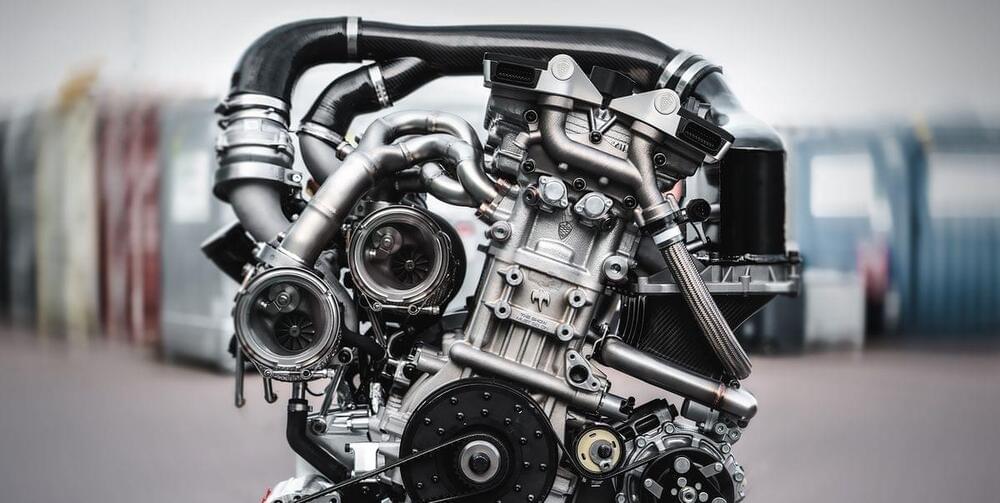 Koenigsegg calls the engine the Tiny Friendly Giant, or TFG for short, and it's an apt name. The TFG is a 2.0-liter twin-turbo three-cylinder that makes 600 horsepower. At 300 horsepower per liter, the TFG's specific output is far higher than anything ever seen in a road car. Koenigsegg says this is "light-years ahead of any other production three-cylinder today," and he's not wrong: The next most powerful triple is the 268-hp engine in the Toyota GR Yaris.
What's even more unusual is that the TFG doesn't have a camshaft. Instead, the engine uses technology from Koenigsegg's sister company, Freevalve, with pneumatic actuators opening and closing each valve independently. I called company founder Christian von Koenigsegg to learn exactly how this unconventional engine works.
The Tiny Friendly Giant was designed specifically for the Gemera. Koenigsegg wanted something compact and lightweight, with big horsepower. Koenigsegg also decided to reverse the setup found in the hybrid Regera, where internal combustion provides the bulk of the total power output. In the Gemera, the majority of the power comes from electric motors, with the Gemera contributing some driving force as well as charging the hybrid drivetrain's batteries.
---
The "Tiny Friendly Giant" is a game-changer for internal combustion. Christian von Koenigsegg explains this camless wonder.