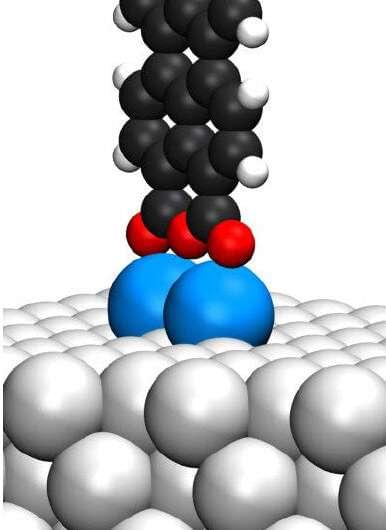 Nanoscale machinery has many uses, including drug delivery, single-atom transistor technology, or memory storage. However, the machinery must be assembled at the nanoscale, which is a considerable challenge for researchers.
For nanotechnology engineers the ultimate goal is to be able to assemble functional machinery part-by-part at the nanoscale. In the macroscopic world, we can simply grab items to assemble them. It is not impossible to "grab" single molecules anymore, but their quantum nature makes their response to manipulation unpredictable, limiting the ability to assemble molecules one by one. This prospect is now a step closer to reality, thanks to an international effort led by the Research Centre Jülich of the Helmholtz society in Germany, including researchers from the Department of Chemistry at the University of Warwick.
In the paper, "The stabilization potential of a standing molecule," published today, 10 November 2021 in the journal Science Advances, an international team of researchers has been able to reveal the generic stabilization mechanism of a single standing molecule, which can be used in the rational design and construction of three-dimensional molecular devices at surfaces.