😗 😁 Runs on the water it is surrounded by and solar.
---
The Aquon One is a luxury solar – hydrogen yacht completely powered by rooftop panels that generate electricity to run its twin 100kW motors and also create hydrogen for fuel cells from the water the boat sails through.
The system is similar to that of the zero emission Energy Observer research vessel which is sailing around the world on solar, wind and hydrogen power and is currently in French Guiana on its way from France to Japan. The difference being that the Aquon is not a research ship, but the world's first leisure catamaran powered by green (no fossil fuels involved) hydrogen.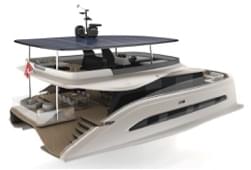 The company behind the yacht is Swiss Sustainable Yachts (SSY), formed in2018by Dr. Adrian Beer, a passionate yachtsman and serial entrepreneur who also founded and is CEO of the GrupoBeer corporation which advises and assists companies recovering from natural disasters.