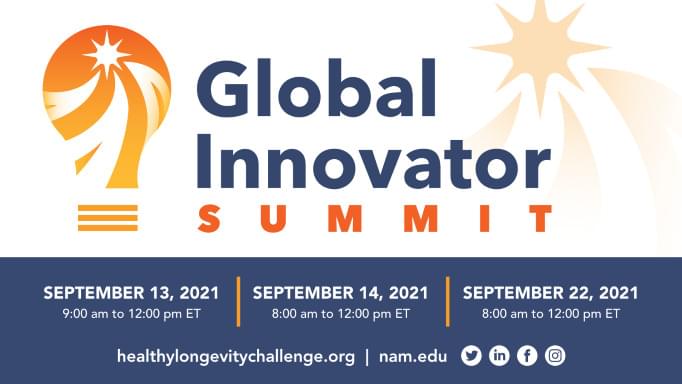 While is seems like the majority of the longevity space is currently overly captivated by the Aubrey de Grey/SENS debacle, the U.S. National Academy of Sciences, Healthy Longevity Global Innovator Summit is now beginning — Most interestingly, former R&D Head at PepsiCo, Dr. Mehmoud Khan, will be speaking in his new role as CEO of the Hevolution Foundation; a potential multi-billion $$$ initiative with a longevity angle — Everyone should keep their eye on this one…
---
The National Academy of Medicine (NAM) will hold its inaugural Healthy Longevity Global Innovator Summit in September 2,021 with support from Johnson and Johnson Innovation and The John A. Hartford Foundation. The event will be virtual and held over three days, September 13 14, and 22 and feature an immersive, interactive digital venue with unique opportunities to engage and connect.
The Innovator Summit will honor the 154 international Healthy Longevity Catalyst Awardees from 2020 and bring together industry leaders, academics, researchers, scientists, and entrepreneurs whose work contributes to the field of healthy longevity. Attendees will learn about the early-stage, award-winning innovations, hear from leaders in the field of healthy longevity, and take advantage of various opportunities to interact directly with other attendees, with a view to fostering interdisciplinary and cross-sector collaboration.
The event will feature remarks from the President of the National Academy of Medicine, Dr. Victor Dzau, and Catalyst Award Sponsors, Dr. William Hait, Global Head of Johnson & Johnson External Innovation, and Dr. Terry Fulmer, President of the John A. Hartford Foundation. Visionary keynote speakers will share insights into launching biotechnology start-ups and opportunities for groundbreaking science in the field of longevity. Participants will also be able to enjoy a robust selection of breakout sessions and the chance to network with Catalyst Award winners, researchers, venture capitalists, and more in one-on-one and small group settings.