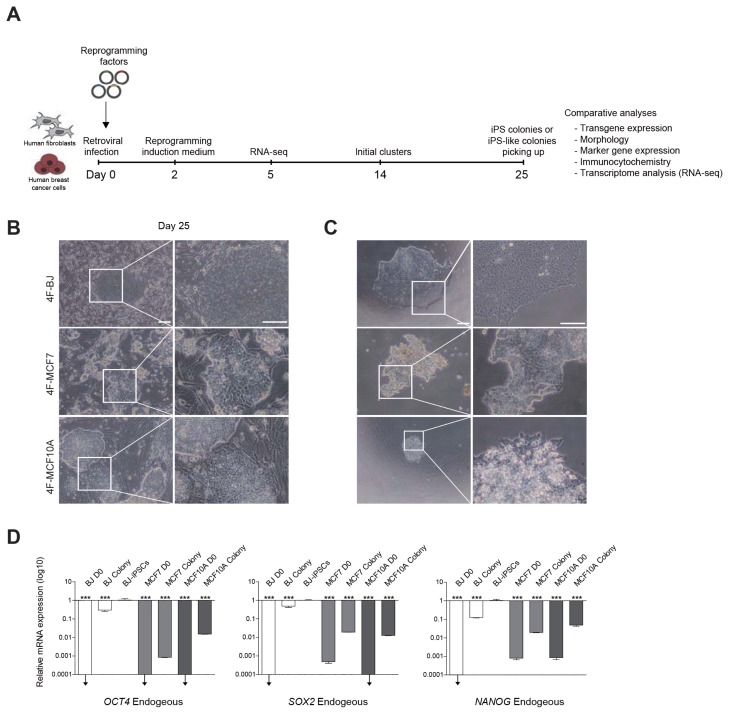 Circa 2019
---
Several recent studies have claimed that cancer cells can be reprogrammed into induced pluripotent stem cells (iPSCs). However, in most cases, cancer cells seem to be resistant to cellular reprogramming. Furthermore, the underlying mechanisms of limited reprogramming in cancer cells are largely unknown. Here, we identified the candidate barrier genes and their target genes at the early stage of reprogramming for investigating cancer reprogramming.
We tried induction of pluripotency in normal human fibroblasts (BJ) and both human benign (MCF10A) and malignant (MCF7) breast cancer cell lines using a classical retroviral reprogramming method. We conducted RNA-sequencing analysis to compare the transcriptome of the three cell lines at early stage of reprogramming.
We could generate iPSCs from BJ, whereas we were unable to obtain iPSCs from cancer cell lines. To address the underlying mechanism of limited reprogramming in cancer cells, we identified 29 the candidate barrier genes based on RNA-sequencing data. In addition, we found 40 their target genes using Cytoscape software.