Hyosung Chairman Hyun-Joon Cho has begun to activate the hydrogen economy by preparing to construct the world's largest liquid hydrogen factory following a large-scale investment in carbon fiber last year.
Hyosung joined hands with the Linde Group, a global chemical company specializing in industrial gas, to establish a value chain encompassing the production and transportation of liquid hydrogen and installation and operation of charging stations by investing KRW 300 billion in all by 2022. For this purpose, an MOU was signed by Hyosung Chairman Hyun-Joon Cho and Linde Korea Chairman Baek-Seok Seong on April 28 at the head office of Hyosung in Mapo, Seoul.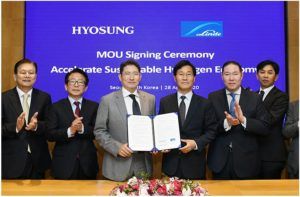 To expand charging infrastructure by constructing a liquid hydrogen factory with annual production capacity of 13000 tons in Yongyeon by 2022.