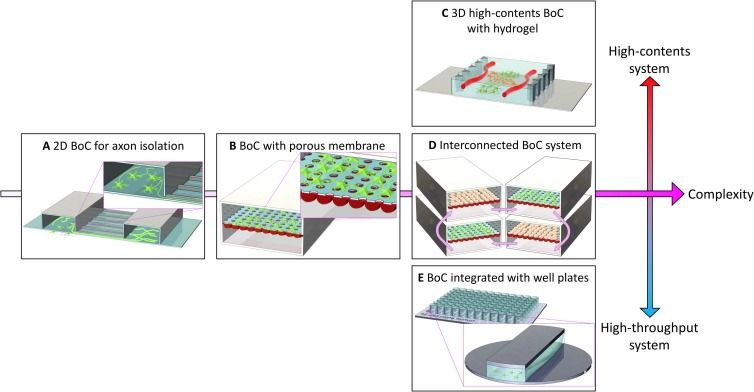 Brain on a chip for drug discovery.
---
Since the advent of organ-on-a-chip, many researchers have tried to mimic the physiology of human tissue on an engineered platform. In the case of brain tissue, structural connections and cell–cell interactions are important factors for brain function. The recent development of brain-on-a-chip is an effort to mimic those structural and functional aspects of brain tissue within a miniaturized engineered platform. From this perspective, we provide an overview of trace of brain-on-a-chip development, especially in terms of complexity and high-content/high-throughput screening capabilities, and future perspectives on more in vivo-like brain-on-a-chip development.
With the advent of an aging society, the disease incidence rate is increasing, and the cost of drug development and disease treatment is expanding exponentially.1,2 According to the World Health Organization (WHO), nearly one billion people in the world suffer from neurodegenerative diseases such as Alzheimer's (AD) and Parkinson's diseases.3 Despite decades of research on neurodegenerative diseases by many biologists and pharmaceutical companies, the underlying mechanism of their onset and progression is still largely unknown. The resolution of these diseases has a long way to go, and such steps are limited due to the lack of a suitable in vitro model system for mechanism study and drug development. In particular, the complex tissue structures and cell–cell interactions of the in vivo system make it challenging to unravel the underlying mechanism of the diseases and to predict the efficacy of clinical medicine.