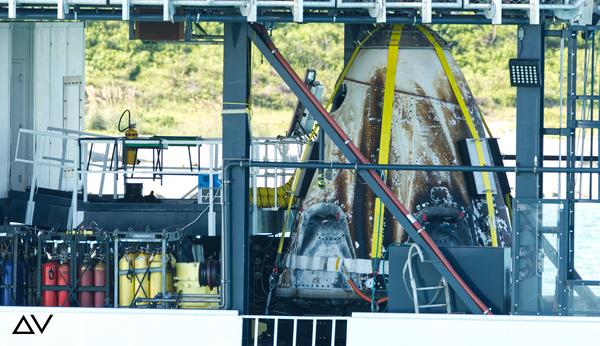 Featured Image Source: ΔV Photos @DeltavPhotos via Twitter.
 The United States reemerged as a space power with human spaceflight capabilities when SpaceX launched NASA Astronauts Robert Behnken and Douglas Hurley aboard the Crew Dragon spacecraft to the International Space Station (ISS) in May. The mission, referred to as Demo-2, was the first time the agency launched astronauts from American soil since the Space Shuttle fleet was grounded in 2011. A Falcon 9 rocket lifted off from Launch Pad 39A at the Kennedy Space Center in Florida, igniting a new era in human spaceflight. After a two-month-long stay at the orbiting laboratory, the brave pair returned aboard the Crew Dragon they called 'Endeavour.'
Dragon Endeavour undocked from the space station's Harmony module on August 1st. Astronauts Behnken and Hurley conducted a 19-hour return voyage. On August 2nd, Dragon reentered Earth's fiery atmosphere at a speed of around 17,500 miles per hour with the astronauts aboard. The spacecraft experienced high temperatures over 3,500 degrees Fahrenheit. Then, it deployed its sets of parachutes to slow down and conduct a parachute-assisted splashdown in the Gulf of Mexico off the coast of Pensacola, Florida. It was the first splashdown of an American spacecraft carrying crew in 45 years. NASA Administrator Jim Bridenstine shared his excitement -"We have Splashdown! Welcome home Behnken and Hurley!" he said. It is the first time the company returns humans from space. NASA and SpaceX recovery teams arrived to the spacecraft aboard the 'Go Navigator' ship to pick up the astronauts and Dragon. The vessel features a medical room and a helicopter landing pad.