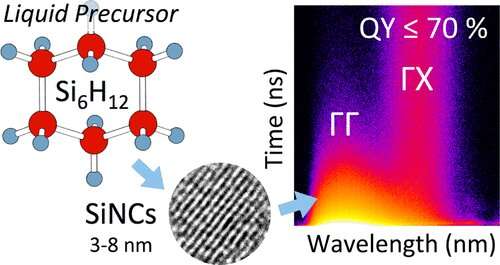 NDSU researchers recently developed a new method of creating quantum dots made of silicon. Quantum dots, or nanocrystals, are tiny nanometer-scale pieces of semiconductor that emit light when their electrons are exposed to UV light. The most common application of quantum dots is in QLED displays. Through their use, digital displays have become brighter and much thinner, resulting in improvements to television and, potentially, cell-phone technology.
Because silicon is abundant and nontoxic, silicon quantum dots have unique technological appeal. Silicon quantum dots are currently being used for applications such as windows that remain transparent while serving as active photovoltaic collectors of energy, and they hold promise in medicine where quantum dots are coated with organic molecules to create nontoxic fluorescent biomarkers.
While traditional methods for creating silicon quantum dots require dangerous materials such as silicon tetrahydride (silane) gas or hydrofluoric acid, the NDSU team's research uses a liquid form of silicon to make the tiny particles at room temperature using relatively benign components.