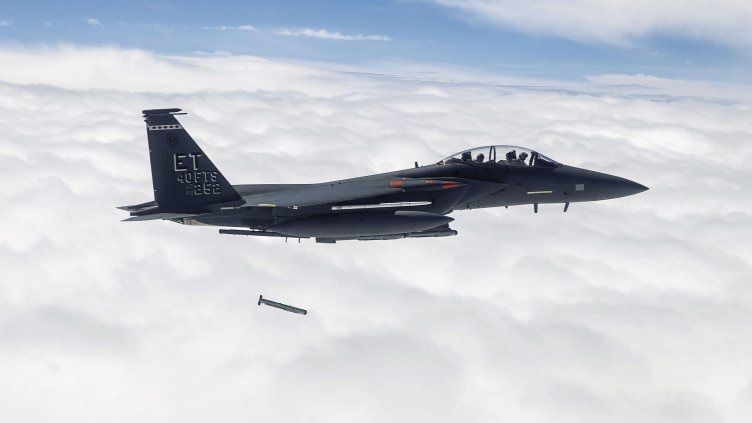 The US Air Force (USAF) is expected to declare an initial operating capability (IOC) with the Raytheon Missile Systems GBU-53/B StormBreaker glide munition on the Boeing F-15E Strike Eagle multirole combat aircraft in the first half of this year, following compliance with a Required Assets Available (RAA) milestone, which is anticipated in the next few weeks.
The StormBreaker RAA is the pre-IOC benchmark capability to arm 12 USAF F-15Es with two, fully-loaded (four weapons) BRU-61/A carriage systems each for 1.5 sorties (144 assets total).
Optimised to address moving battlefield targets, StormBreaker — formerly designated 'Small Diameter Bomb II' — is a 250 lb-class, air-launched unpowered glide weapon system furnished with a unique tri-mode seeker, which combines millimetre wave (MMW) radar, imaging infrared (IIR), and semi-active laser (SAL) sensors with a GPS/inertial navigation system (INS) autopilot (the provider for which is undisclosed) for precision accuracy in adverse weather conditions. The seeker's optical dome is protected by a clamshell shroud, which is jettisoned before the seeker is activated. A Rockwell Collins TacNet bi-directional dual-band datalink enables Joint Tactical Information Distribution System (JTIDS) connectivity with aircraft and an ultra-high frequency (UHF) link with a ground designator.