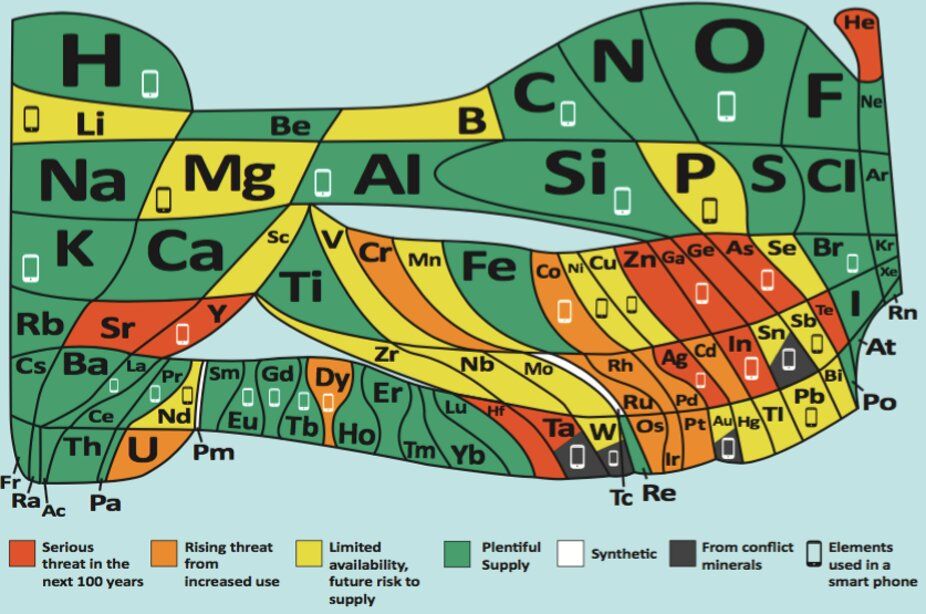 As this new version of the periodic table underlines, we must do all we can to conserve and recycle the precious building blocks[…].
If we don't start taking these problems more seriously, many of the objects and technologies that we now take for granted may be relics of a more abundant age a few generations from now – or available only to richer people.
---
It is amazing to think that everything around us is made up from just 90 building blocks – the naturally occurring chemical elements. Dmitri Mendeleev put the 63 of these known at the time into order and published his first version of what we now recognise as the periodic table in 1869. In that year, the American civil war was just over, Germany was about to be unified, Tolstoy published War and Peace, and the Suez Canal was opened.
There are now 118 known elements but only 90 that occur in nature. The rest are mostly super-heavy substances that have been created in laboratories in recent decades through nuclear reactions, and rapidly decay into one or more of the natural elements.
Where each of these natural elements sits in the periodic table allows us to know immediately a great deal about how it will behave. To commemorate the 150th anniversary of this amazing resource, UNESCO has proclaimed 2019 as the International Year of the Periodic Table.