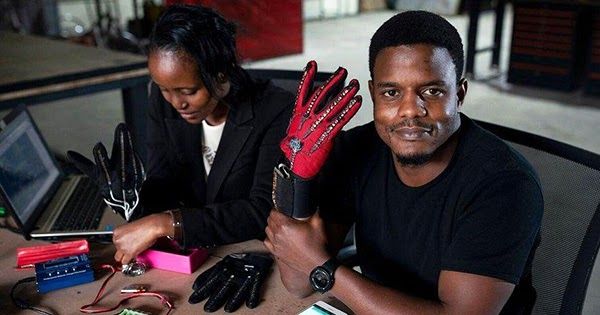 Shouldn't the title just be "Engineer"? What an amazing product!
---
Roy Allela, a 25-year old engineer and inventor from Kenya, has found the ultimate solution to bridging the communication barrier between deaf and hearing people. He has invented the Sign-IO gloves that can translate signed hand movements to audible speech so deaf people can "talk" even to those who don't understand sign language.
The Sign-IO gloves feature sensors mounted on each of the five fingers to determine its movements, including how much a finger is bent. The gloves are connected via Bluetooth to an Android app that Allela also invented which uses a text-to-speech function to convert the gestures to vocal speech.
Allela was inspired to create the gloves because he and his family struggled to communicate with his 6-year-old niece who was born deaf. "My niece wears the gloves, pairs them to her phone or mine, then starts signing and I'm able to understand what she's saying. Like all sign language users, she's very good at lip reading, so she doesn't need me to sign back," he said in an interview with The Guardian.