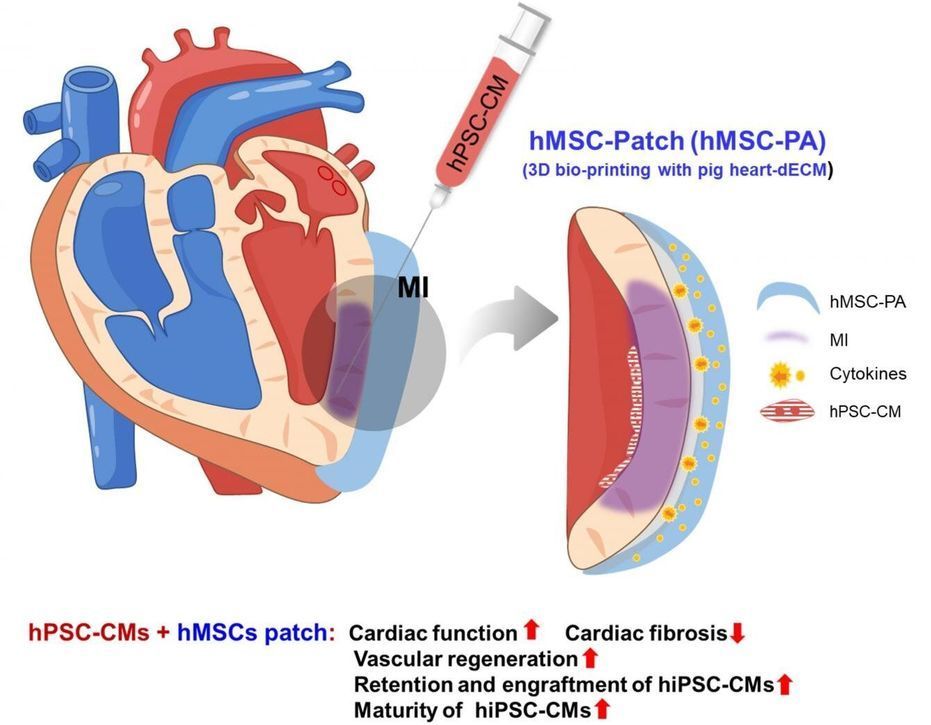 As a medical emergency caused by severe cardiovascular diseases, myocardial infarction (MI) can inflict permanent and life-threatening damage to the heart. A joint research team comprising scientists from City University of Hong Kong (CityU) has recently developed a multipronged approach for concurrently rejuvenating both the muscle cells and vascular systems of the heart by utilizing two types of stem cells. The findings give hope to develop a new treatment for repairing MI heart, as an alternative to the existing complex and risky heart transplant for seriously-ill patients.
MI is a fatal disorder caused by a shortage of coronary blood supply to the myocardium. It leads to permanent loss of heart muscle cells (cardiomyocytes, CMs), and scar tissue formation, resulting in irreversible damage to cardiac function or even heart failure. With limited therapeutic options for severe MI and advanced heart failure, a heart transplant is the last resort. But it is very risky, costly and subject to limited suitable donors. Therefore, stem cell-based therapy has emerged as a promising therapeutic option.
Dr. Ban Kiwon, a stem cell biologist from Department of Biomedical Sciences at CityU, has been focusing on developing novel stem cell-based treatments for cardiac regeneration. "Heart is an organ composed of cardiac muscles and blood vessels, where vessels are essential to supply oxygen and energy to the muscles. Since both cardiac muscles and vasculatures would be severely damaged following MI, the therapeutic strategies should focus on comprehensive repair of both at the same time. But so far the strategies only focus on either one," he explains.