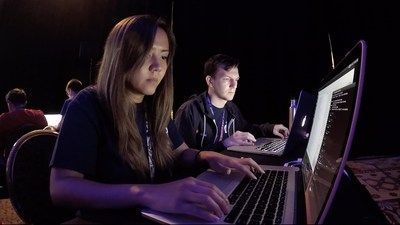 PITTSBURGH, Aug. 12, 2019 /PRNewswire/ — Carnegie Mellon University's competitive hacking team, the Plaid Parliament of Pwning (PPP), just won its fifth hacking world championship in seven years at this year's DefCon security conference, widely considered the "World Cup" of hacking. The championship, played in the form of a virtual game of "capture the flag," was held August 8–11 in Las Vegas.
PPP now holds two more DefCon titles than any other team in the 23-year history of DefCon hosting the competition.
"If you're wondering who the best and brightest security experts in the world are, look no further than the capture the flag room at DefCon," says David Brumley, a professor of Electrical and Computer Engineering at Carnegie Mellon, and the faculty advisor to the team.