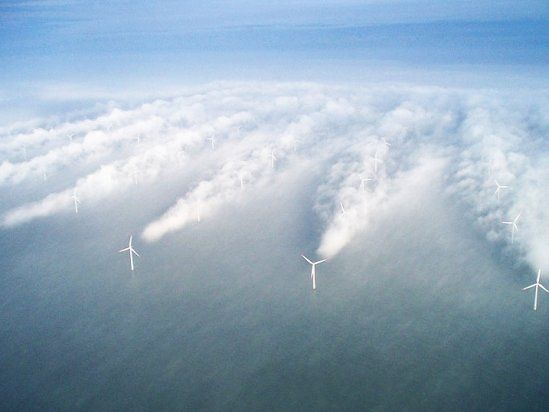 You've probably seen them, perhaps on long roadtrips: wind turbines with enormous, hypnotic rolling blades, harnessing the clean power of wind for conversion into electric energy. What you may not know is that for the explosion in the number of wind turbines in use as we embrace cleaner sources of energy, these wind farms are quite possibly not as productive as they could be.
"We've been designing turbines for use by themselves, but we almost never use them by themselves anymore," said UC Santa Barbara mechanical engineering professor Paolo Luzzatto-Fegiz, whose specialty lies in fluid mechanics. Historically, he said, wind turbines were used individually or in small groups, but as the world moves toward greener energy technologies, they are now found in groups of hundreds or thousands.
The problem with these large installations is that each machine, which has been designed to extract as much energy as possible from oncoming wind, may not "play well" with the others, Luzzatto-Fegiz explained. Depending on how the turbines are situated relative to each other and to the prevailing wind, those not directly in the path of the wind could be left to extract energy from significantly depleted airflow.
Read more