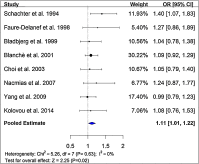 Life extension genetics.
---
Many factors contribute to exceptional longevity, with genetics playing a significant role. However, to date, genetic studies examining exceptional longevity have been inconclusive. This comprehensive review seeks to determine the genetic variants associated with exceptional longevity by undertaking meta-analyses.
Meta-analyses of genetic polymorphisms previously associated with exceptional longevity (85+) were undertaken. For each variant, meta-analyses were performed if there were data from at least three independent studies available, including two unpublished additional cohorts.
Five polymorphisms, ACE rs4340, APOE ε2/3/4, FOXO3A rs2802292, KLOTHO KL-VS and IL6 rs1800795 were significantly associated with exceptional longevity, with the pooled effect sizes (odds ratios) ranging from 0.42 (APOE ε4) to 1.45 (FOXO3A males).
Read more