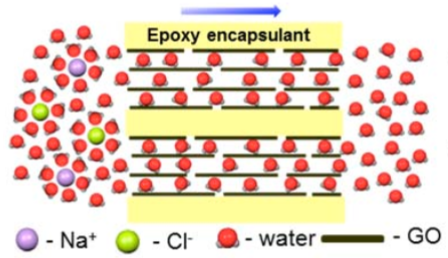 Schematic illustrating the direction of ion/water permeation along graphene planes (credit: J. Abraham et al./ Nature Nanotechnology)
British Scientists have designed a way to use graphene-oxide (GO) membranes to filter common salts out of salty water and make the water safe to drink.
Graphene-oxide membranes developed at the National Graphene Institute had already demonstrated the potential of filtering out small nanoparticles, organic molecules, and even large salts. And previous research at The University of Manchester also found that if immersed in water, graphene-oxide membranes become slightly swollen and smaller salts flow through the membrane along with water, but larger ions or molecules are blocked.
Read more