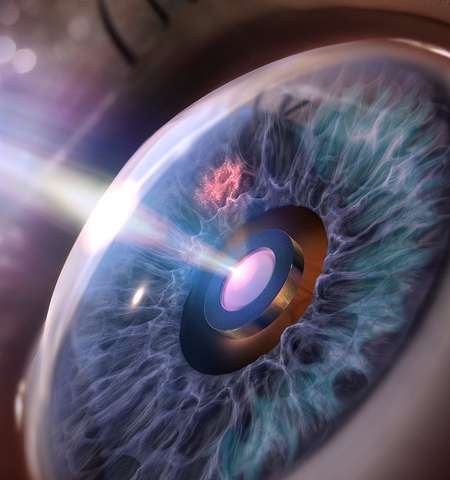 A team of researchers led by Caltech's Hyuck Choo has developed an eye implant for glaucoma patients that could one day lead to more timely and effective treatment.
If you have ever been to an ophthalmologist, you have probably had your eye pressure checked: with your chin resting on a support to keep your head still, the doctor applies pressure to your eye either via a puff of warm air or by gently pressing a probe against the eye's surface. By measuring the amount that surface deforms as a result of a known amount of pressure, the ophthalmologist can calculate a rough estimate of the intraocular pressure.
While effective enough for routine eye exams, the technique is not sufficient for patients suffering from glaucoma. Glaucoma affects more than 2 million people in the United States, and is the second leading cause of blindness after cataracts. It is actually a family of eye diseases that are characterized by an increase in the pressure of the fluid inside the eye. That pressure damages the optic nerve at the back of the eye.
Read more