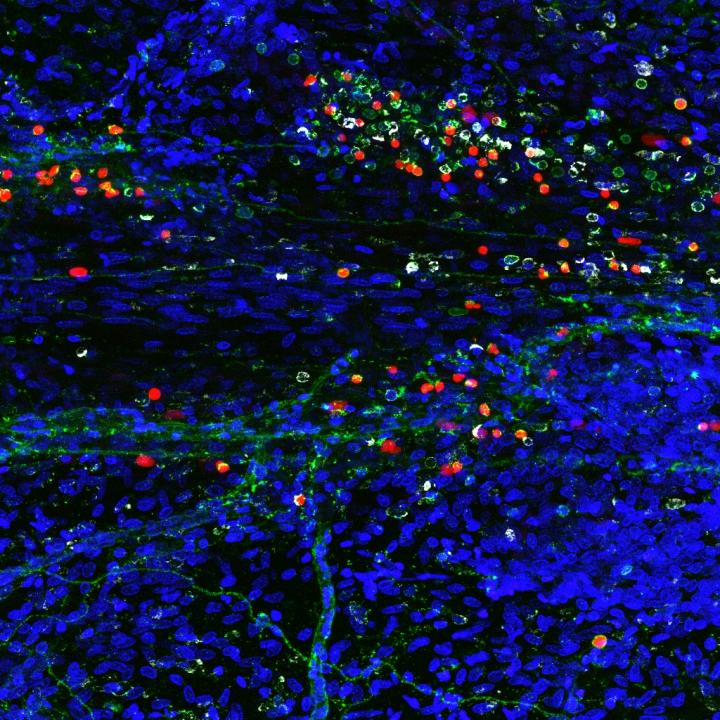 This could be a huge deal, a game changer even.
Definitely research to follow closely.
---
A composite image showing newly discovered immune cells in the brain (credit: Sachin Gadani | University of Virginia School of Medicine)
University of Virginia School of Medicine researchers have discovered a rare and powerful type of immune cell in the meninges (protective covering) of the brain that are activated in response to central nervous system injury — suggesting that these cells may play a critical role in battling Alzheimer's, multiple sclerosis, meningitis, and other neurological diseases, and in supporting healthy mental functioning.
By harnessing the power of the cells, known as "type 2 innate lymphocytes" (ILC2s), doctors may be able to develop new treatments for neurological diseases, traumatic brain injury, and spinal cord injuries, as well as migraines, the researchers suggest. They also suspect the cells may be the missing link connecting the brain and the microbiota in our guts, a relationship that has been shown to be important in the development of Parkinson's disease.
Read more