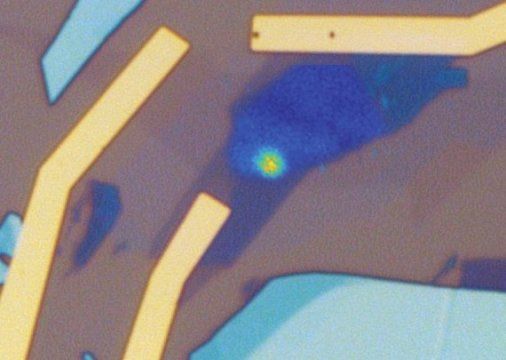 Researchers from the Graphene Flagship use layered materials to create an all-electrical quantum light emitting diodes (LED) with single-photon emission. These LEDs have potential as on-chip photon sources in quantum information applications.
Atomically thin LEDs emitting one photon at a time have been developed by researchers from the Graphene Flagship. Constructed of layers of atomically thin materials, including transition metal dichalcogenides (TMDs), graphene, and boron nitride, the ultra-thin LEDs showing all-electrical single photon generation could be excellent on-chip quantum light sources for a wide range of photonics applications for quantum communications and networks. The research, reported in Nature Communications, was led by the University of Cambridge, UK.
The ultra-thin devices reported in the paper are constructed of thin layers of different layered materials, stacked together to form a heterostructure. Electrical current is injected into the device, tunnelling from single-layer graphene, through few-layer boron nitride acting as a tunnel barrier, and into the mono- or bi-layer TMD material, such as tungsten diselenide (WSe2), where electrons recombine with holes to emit single photons. At high currents, this recombination occurs across the whole surface of the device, while at low currents, the quantum behaviour is apparent and the recombination is concentrated in highly localised quantum emitters.
Read more