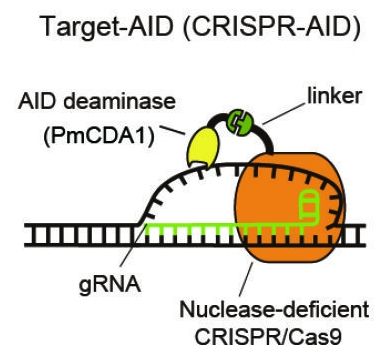 Major advancement in Gene Editing.
---
A team involving Kobe University researchers has succeeded in developing 'Target-AID', a genome editing technique that does not cleave the DNA. The technique offers, through high-level editing operation, a method to address the existing issues of genome editing. It is expected that the technique will be applied to gene therapy in the future in addition to providing a powerful tool for breeding useful organisms and conducting disease and drug-discovery research. The findings were published online in Science on August 5.
The team consists of Project Associate Professor NISHIDA Keiji and Professor KONDO Akihiko (Graduate School of Science, Technology and Innovation, Kobe University) as well as Associate Professor YACHIE Nozomu (Synthetic Biology Division, Research Center for Advanced Science and Technology, the University of Tokyo) and Professor HARA Kiyotaka (Department of Environmental Sciences, Graduate School of Nutritional and Environmental Sciences, University of Shizuoka).
Genome editing — which can directly manipulate the genome information of various organisms without leaving an artificial strand — has seen rapid progress in recent years and it is gradually becoming a revolutionary tool in fields ranging from life sciences to advanced medical research.
Read more