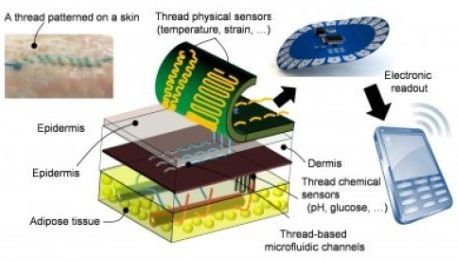 Way cool! Your stitches monitors and reports your progress to your doctor/s.
BTW — In 1999, I told a guy from Diamond Intl. that the thread in our clothing would be able to do this in the next 15 to 20 years. He laughed at me; never say never.
---
For the first time, researchers led by Tufts University engineers have integrated nano-scale sensors, electronics and microfluidics into threads — ranging from simple cotton to sophisticated synthetics — that can be sutured through multiple layers of tissue to gather diagnostic data wirelessly in real time, according to a paper published online July 18 in Microsystems & Nanoengineering. The research suggests that the thread-based diagnostic platform could be an effective substrate for a new generation of implantable diagnostic devices and smart wearable systems.
The researchers used a variety of conductive threads that were dipped in physical and chemical sensing compounds and connected to wireless electronic circuitry to create a flexible platform that they sutured into tissue in rats as well as in vitro. The threads collected data on tissue health (e.g. pressure, stress, strain and temperature), pH and glucose levels that can be used to determine such things as how a wound is healing, whether infection is emerging, or whether the body's chemistry is out of balance. The results were transmitted wirelessly to a cell phone and computer.
The three-dimensional platform is able to conform to complex structures such as organs, wounds or orthopedic implants.
Read more