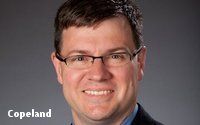 Cool
---
Shipments of augmented reality hardware, which combine real-world and virtual images in the user's field of view, are forecast by market research firm IDC to ramp up over the next few years. Unlike virtual reality hardware, which tends to be more geared toward gaming, AR hardware is particularly suited for enterprise use, such as architecture, equipment repair and maintenance,
Product design and medical procedures, to name a few. IDC predicted that VR hardware will take off first, but AR will catch up, with combined devices markets seeing hardware shipments exceeding.
110 million units in 2020.
Read more