Hmmm;
---
The latest figures are a clear sign that India's largest outsourcing firms are succeeding at 'non-linear' growth, where revenues increase disproportionately compared with hiring.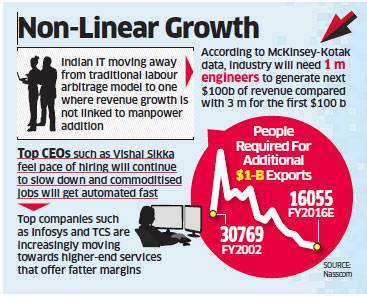 While the numbers are good news for an industry that is trying to defend profit margins, it raises concerns over the future of hiring and the availability of engineering jobs in a sector that employs over three million people.
"What you're seeing now is about 200,000 people being hired in the IT industry — it's not the 4–5 lakhs that they used to hire 10 years ago. And that's because the growth has shrunk from 35–40% and the competition was for resources. Even now the competition is for resources, but it's for slightly more experienced resources — people who can work on automation, artificial intelligence, machine languages, data sciences. So, it's not hiring for Java coding anymore," said Infosys co-founder Kris Gopalakrishnan in a recent interview.
Read more