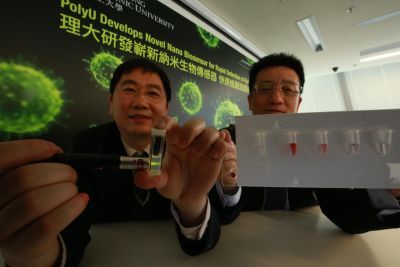 A team of researchers at The Hong Kong Polytechnic University (PolyU) has designed a biosensor that uses an optical method called upconversion luminescence resonance energy transfer (LRET) for virus detection within 2–3 hours. Its cost is around HK$20 ($2.50) per sample—about 80% lower than traditional testing methods—and can be used for detecting different types of viruses, shedding new light on the development of low-cost, rapid, and ultrasensitive detection of different viruses.
Related: Infectious disease control with portable CMOS-based diagnostics
Traditional biological methods for flu virus detection include genetic analysis—reverse transcription-polymerase chain reaction (RT-PCR) and enzyme-linked immunosorbent assay (ELISA) used in immunology. However, RT-PCR is expensive and time-consuming, while the sensitivity for ELISA is relatively low. Such limitations make them difficult for clinical use as a front-line and onsite diagnostic tool for virus detection.
Read more