by J.M.P. — The Economist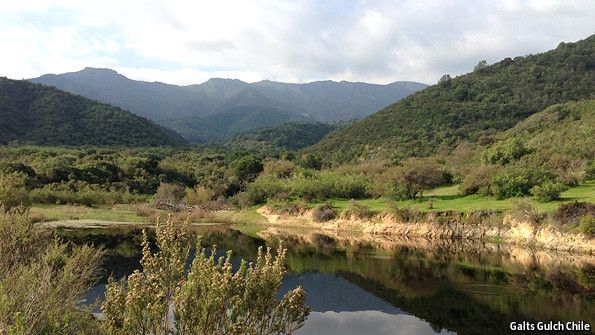 A GROUP of self-described anarchists, libertarians and Ron Paul supporters fleeing the crumbling world economic system have founded Galt's Gulch, a community in Chile inspired by Ayn Rand's "Atlas Shrugged"—and with an economy based entirely on Bitcoin. Or that's the goal, anyway.
"Our farm workers and suppliers still want to get paid in pesos," Ken Johnson, the project's founder and managing partner, explains. "But Bitcoin as the John Galt coin? Why shouldn't it be?"
If the world economic system "goes sideways," as Mr Johnson puts it, residents will retreat to their self-sufficient gated community, where they will enjoy a shooting range, equestrian facilities, and spa and fitness center. The 6,874-hectare site (pictured) also includes a 100-hectare farm, although it is not clear who will pick the lettuce when the world ends.