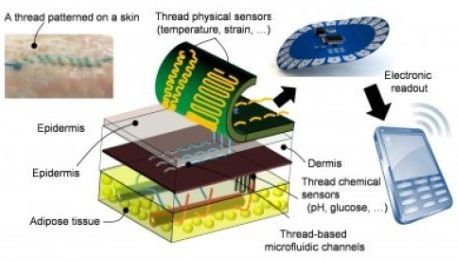 Way cool! Your stitches monitors and reports your progress to your doctor/s.
BTW — In 1999, I told a guy from Diamond Intl. that the thread in our clothing would be able to do this in the next 15 to 20 years. He laughed at me; never say never.
---
For the first time, researchers led by Tufts University engineers have integrated nano-scale sensors, electronics and microfluidics into threads — ranging from simple cotton to sophisticated synthetics — that can be sutured through multiple layers of tissue to gather diagnostic data wirelessly in real time, according to a paper published online July 18 in Microsystems & Nanoengineering. The research suggests that the thread-based diagnostic platform could be an effective substrate for a new generation of implantable diagnostic devices and smart wearable systems.
Continue reading "'Smart' thread collects diagnostic data when sutured into tissue" »