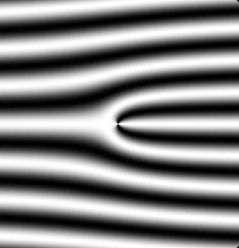 For the first time, a team including scientists from the National Institute of Standards and Technology (NIST) have used neutron beams to create holograms of large solid objects, revealing details about their interiors in ways that ordinary laser light-based visual holograms cannot.
Holograms—flat images that change depending on the viewer's perspective, giving the sense that they are three-dimensional objects—owe their striking capability to what's called an interference pattern. All matter, such as neutrons and photons of light, has the ability to act like rippling waves with peaks and valleys. Like a water wave hitting a gap between the two rocks, a wave can split up and then re-combine to create information-rich interference patterns (link is external).
An optical hologram is made by shining a laser at an object. Instead of merely photographing the light reflected from the object, a hologram is formed by recording how the reflected laser light waves interfere with each other. The resulting patterns, based on the waves' phase differences (link is external), or relative positions of their peaks and valleys, contain far more information about an object's appearance than a simple photo does, though they don't generally tell us much about its hidden interior.
Read more