Archive for the 'economics' category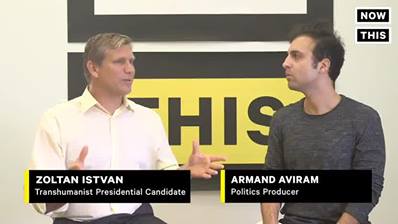 Lots of topics discussed including my campaign, transhumanism, and my support of a Universal Basic Income:
---
We're with 2016 Presidential candidate, Zoltan Istvan, who is running under the Transhumanist Party. What's transhumanism? Find out and let us know what your questions are for Zoltan.
NASA is offering $1.1 million in prize money in Phase 2 of the 3D-Printed Habitat Challenge for new ways to build houses where future space explorers can live and work.
The three-part competition asks citizen inventors to use readily available and recyclable materials for the raw material to print habitats.
Phase 2 focuses on the material technologies needed to manufacture structural components from a combination of indigenous materials and recyclables, or indigenous materials alone. NASA may use these technologies to construct shelters for future human explorers to Mars. On Earth, these same capabilities could also be used to produce affordable housing wherever it is needed or where access to conventional building materials and skills is limited.
Continue reading "NASA Offers Prize Money for 3D-Printed Habitat Ideas" »

" … the ECB urged EU lawmakers to tighten proposed new rules on digital currencies such as bitcoin …"
In Brief:
The United States' current levels of R&D spending on AI are one-half to one-quarter of the levels that would be best for economic growth.
Lagging behind in AI research could put the U.S. at a disadvantage if other countries get the opportunity to dictate how the technology is used.
The U.S. may be trailing behind China in artificial intelligence (AI) research — or at least in journal articles that mention "deep learning" or "deep neural network" — according to the White House's National Artificial Intelligence Research and Development Strategic Plan.
Could technology build friendships for Israel across the Middle East?
---
Israel and Saudi Arabia should form a "collaborative alliance" to become the "twin pillars of regional stability" in the Middle East, a top Saudi lobbyist wrote in The Hill on Tuesday, in what is the latest sign of warming and increasingly-public ties between Arab countries and the Jewish state.
Salman al-Ansari, the founder and president of the Saudi American Public Relations Affairs Committee, asserted that Israel can assist Saudi Arabia in implementing its Vision 2030, the Kingdom's blueprint to diversify its economy. Al-Ansari specifically mentioned Israel's expertise in mining and water technology, which makes Israel "extraordinarily qualified to help Saudi Arabia with its ambitious desalination plans."
Continue reading "Saudi Commentator Praises Israel; Latest Sign of Warming Ties Between Jewish and Arab States" »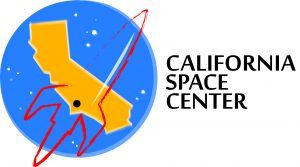 California Space Center (CSC) founder Eva Blaisdell announced in a press release sent to CoinReport the launch of "Copernic," a blockchain-based, finance-focused rights management system developed for the space industry.
Named after legendary Polish astronomer Copernicus, Copernic will provide the infrastructure for the future space economy and ecosystem to be built upon, said CSC.
Continue reading "California Space Center announces blockchain system for space economy" »

The American Dream is ending, and its automated software and hardware technology that's ending it.
---
Now that machines can diagnose cancer, trade stocks, and write symphonies, they're not just going to make humans more efficient as they have in the past—they are replacing them entirely and wrecking the economy along the way.
My new story for Vice Motherboard on The Venus Project, Jacque Fresco, and a Resource Based Economy. I had the honor of visiting 100 year old Jacque Fresco last week. This story is also on the cover of Vice right now: http://motherboard.vice.com/read/eliminating-money-taxes-and…chnoutopia #transhumanism #Election2016 #ScienceCandidate #ResourceBasedEconomy #JacqueFresco #VenusProject
---
Futurist and architect Jacque Fresco speaks in parables. If he goes on too long with a story, his 40-year partner Roxanne Meadows interjects facts to keep him on track. Fresco recently turned 100 years old, and is the oldest celebrity futurist in the world. His magnum opus is The Venus Project, a 21-acre Central Florida Eden with white dome-shaped buildings that Meadows and he hand built over three and a half decades. The sanctuary and research center is where Fresco still leads weekly seminars, which includes a tour of 10 buildings—some filled with hundreds of future city models inside them—that highlight the promise of a future world where equality and technology abound.
How I met Fresco at The Venus Project this month starts with income taxes —something I hate and aim to one day eliminate altogether for humanity. Fresco doesn't like taxes either. While searching online about taxes, I stumbled upon Fresco's voluminous work: over 80 years of essays, filmed lectures, books, documentaries, models, and architectural drawings. Much of Fresco's work is anchored by his main philosophical idea: a resource-based economy, where there's not only zero taxes, but no ownership or money either.
Continue reading "Eliminating Money, Taxes, and Ownership Will Bring Forth Technoutopia" »

Circa News, a millennial site, did a story on transhumanism and my campaign. There are 3 videos embedded into this article (a general one on transhumanism, one on using tech to help the environment, and one on a Universal Basic Income):
---
WATCH | Zoltan Istvan thinks all sentient beings — including, but not limited to humans, artificial intelligence and cyborgs — have the right to be immortal. And that right should be protected under law.
Which is why, naturally, he decided to run for president of the United States.
Continue reading "Meet the 2016 presidential candidate who believes humans will eventually live forever" »