Archive for the 'asteroid/comet impacts' category
Gaia continues to reap dividends; per this new paper detailing a much closer solar system trajectory for Gliese 710, a sunlike star some 64 light years away in the constellation of Serpens.
---
Gliese 710, a star about half the size of our Sun, will rip through a portion of our solar system's Oort Cloud of comets some 1.35 million years from now. In the process, it's likely to dislodge a huge swath of long-period Earth-crossing comets.
Read more
In news certain to take the bounce out of your step, a NASA scientist says Earth is due for an "extinction-level" event that we basically would have no way of stopping.
Dr. Joseph Nuth of NASA's Goddard Space Flight Center rang the alarm Monday in San Francisco, New York Magazine reports. The comet that spelled disaster for the dinosaurs hit 65 million years ago, and Nuth said the massive asteroids and comets that could wipe out civilization usually strike "50 to 60 million years apart," making such an event overdue.
In 2014, scientists first spotted a large comet barreling toward Mars just 22 months before it came perilously close to hitting the planet. That wasn't enough time to do anything, Nuth said, proof that "the biggest problem, basically, is there's not a hell of a lot we can do about it at the moment." To prevent a catastrophic event, Nuth suggests NASA create a rocket that can go in storage, ready to be used if a huge comet comes our way. "It could mitigate the possibility of a sneaky asteroid coming in from a place that's hard to observe, like from the sun," Nuth said. The way 2016 has gone so far, you might want to start scanning the sky. Catherine Garcia.
Continue reading "NASA scientist warns Earth is due for an 'extinction-level event'" »

If humans were ever able to get their hands on just one asteroid, it would be a game-changer.
That's because the value of many asteroids are measured in the quintillions of dollars, which makes the market for Earth's annual production of raw metals – about $660 billion per year – look paltry in comparison.
The reality is that the Earth's crust is saddled with uneconomic materials, while certain types of asteroids are almost pure metal. X-type asteroids, for example, are thought to be the remnants of large asteroids that were pulverized in collisions in which their dense, metallic cores got separated from the mantle.
Continue reading "There's big money to be made in asteroid mining" »

Captain Obvious has OBVIOUSLY taken over NASA, I'm afraid.
wink
---
Space rocks are a bigger threat than people realize, scientists say. An organization is trying to bring awarness to the dangerous of asteroids.
Continue reading "Asteroids could threaten Earth, scientists say" »

ACTON, Australia, May 16 (UPI) — Researchers in Australia recently found a collection of spherules, evidence of a massive asteroid that struck Earth as it was still forming.
Spherules are tiny glass beads formed from material vaporized in the intense heat of an asteroid impact. They were found in northwestern Australia by a team of geologists led by Andrew Glikson of the Australian National University.
The glass beads were found scattered among ancient ocean sediments dated to the middle of the Archean Eon — 3.46 billion years ago. The spread of the spherules deposit suggests the impact would have left a crater between 12 and 18 miles in diameter.
Continue reading "Evidence of ancient giant asteroid discovered in Australia" »

Pandemics, asteroids, nuclear war, and sudden, destructive climate change are all unlikely—but not so unlikely that we shouldn't be planning for them.
Read more
COLORADO SPRINGS — Jeff Bezos, founder of Amazon.com, could not be more clear about what he believes is mankind's future.
"I want millions of people living and working in space. I want us to be a space-faring civilization," Bezos told a packed audience at the Space Symposium on Tuesday in Colorado Springs.
"My motivation is, I don't want Plan B to be, 'Good news, Earth got destroyed by a big comet but we live on Mars.' I think we need to explore and utilize space in order to save the Earth," he said, referring to the need to shift industrial manufacturing to space to limit the impact on Earth's resources.
Continue reading "Jeff Bezos wants to open the way for millions to live, work in space" »

Look up the definition of irresponsible journalism and you'll probably find a link to THIS article.
---
A mysterious planet that wiped out life on Earth millions of years ago could do it again, according to a top space scientist.
And some believe the apocalyptic event could happen as early as this month.
Continue reading "Newly discovered planet could destroy Earth any day now" »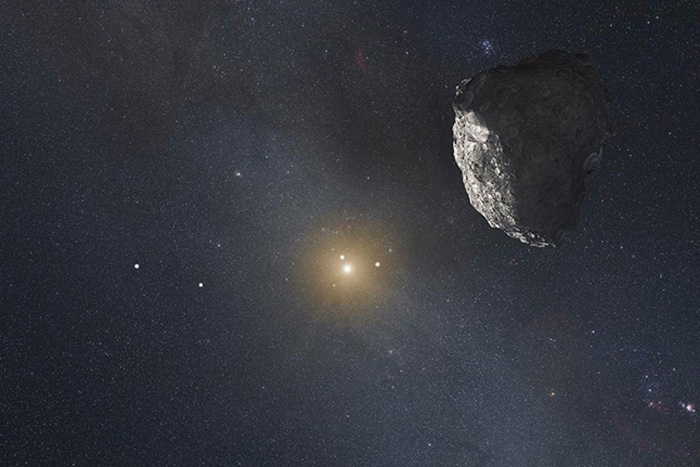 As astronomers track down more clues as to the existence of a large world orbiting the sun in the outer fringes of the solar system, a classic planetary purveyor of doom has been resurrected as a possible trigger behind mass extinctions on Earth.
Yes, I'm talking about "Planet X." And yes, there's going to be hype.
MORE: 9th Planet May Lurk in the Outer Solar System.
Continue reading "Could 'Planet X' Cause Comet Catastrophes on Earth?" »