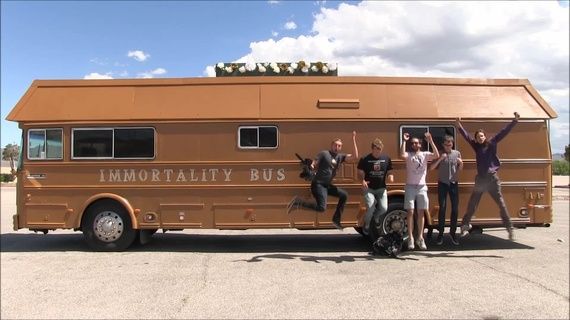 New article on Immortality Bus trip promoting transhumanism with new videos:
---
It seemed a wild, impossible dream a year ago when I told my wife and young daughters I was going to drive a bus shaped like a coffin across America to raise life extension issues. A week ago, I just finished the second stage of the tour. Soon I'll begin the third stage from Arizona to Texas, and then across the Bible Belt to Washington DC, where I plan to post a Transhumanist Bill of Rights to the US Capitol building.
If the bus tour seems like a wacky idea–especially for a presidential candidate –it's because it is. Of course, to transhumanists, a more wacky idea is how most of our nation largely accepts death as a way of life. In the 21st Century, with the amazing science and technology this country has, I don't believe death needs to be left unconquered. If, as a nation, we would just apply our ingenuity and resources, we could probably conquer death in a decade's time with modern medicine. That's precisely the reason why I'm running for president and driving the coffin bus around the country; I want to tell people the important news and get them to support radical technology and longevity science.
Continue reading "Transhumanism Immortality Bus Underway Across America" »